Presenter: Professor Dr. Evangelos A. Afendras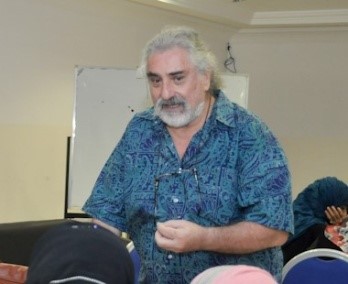 Intended Audience
Research staff, managers and administrators at universities, hospitals and research institutes who have the responsibility or are otherwise involved in the application for research funding
Course Outline
Writing a proposal for the funding of research in the Health sector is an act of communication. It involves a proposing party of applicants who attempt to persuade the funding organisation to grant financial support for the conduct of research on a particular health issue. We will examine the multitude of dimensions involved and explore the approaches which will render the outcome successful.
We will use a "hands on" approach with teamwork responding to a real call for the submission of proposals.
Description
What makes a good research idea? Criteria for identifying good research ideas vary. They can be personal (contribution to one's career), professional such as importance of the topic or institutional emphasis, or social – some topics cater to important societal needs. Overlaps among these are common. Impact on the field is also an important criterion. Innovation is quite important in approaches, methods or those who will benefit.
How to identify and target research funding sources? Who funds research in the Health sector at the local, national, regional or international level? Funding agencies have preferences in their calls for submissions of proposals and these allow you to target your proposal. Search through social media (eg FB, LinkedIn), international organisations (WHO, professional groups), lists/directories of funding institutions.
Grant writing style compared with article writing style. Since grant proposals have as their primary objective to be accepted and lead to financial support, in addition to making their scientific point they need to be persuasive, this means that the style goes beyond academics, may appeal to values, needs, future impact etc: why is the project important and doable. As the project budget is also very important, proposals combine academic writing with aspects of a Business Plan.
Submission and peer review process. Fund seekers need to be thoroughly familiar with the funding agencies' particulars, best seen in past successful applicants' details (who and what). The call for submissions, the minutiae of the templates must be kept in sight always. The reviewing panel is not made up only of specialists, needs to be aroused and won over through simple dynamic expression. The key role of the abstract must be kept in mind, techniques for problem solving and project management used (eg GANTT charts, PESTLE) clear phase sequencing and a Timeline.