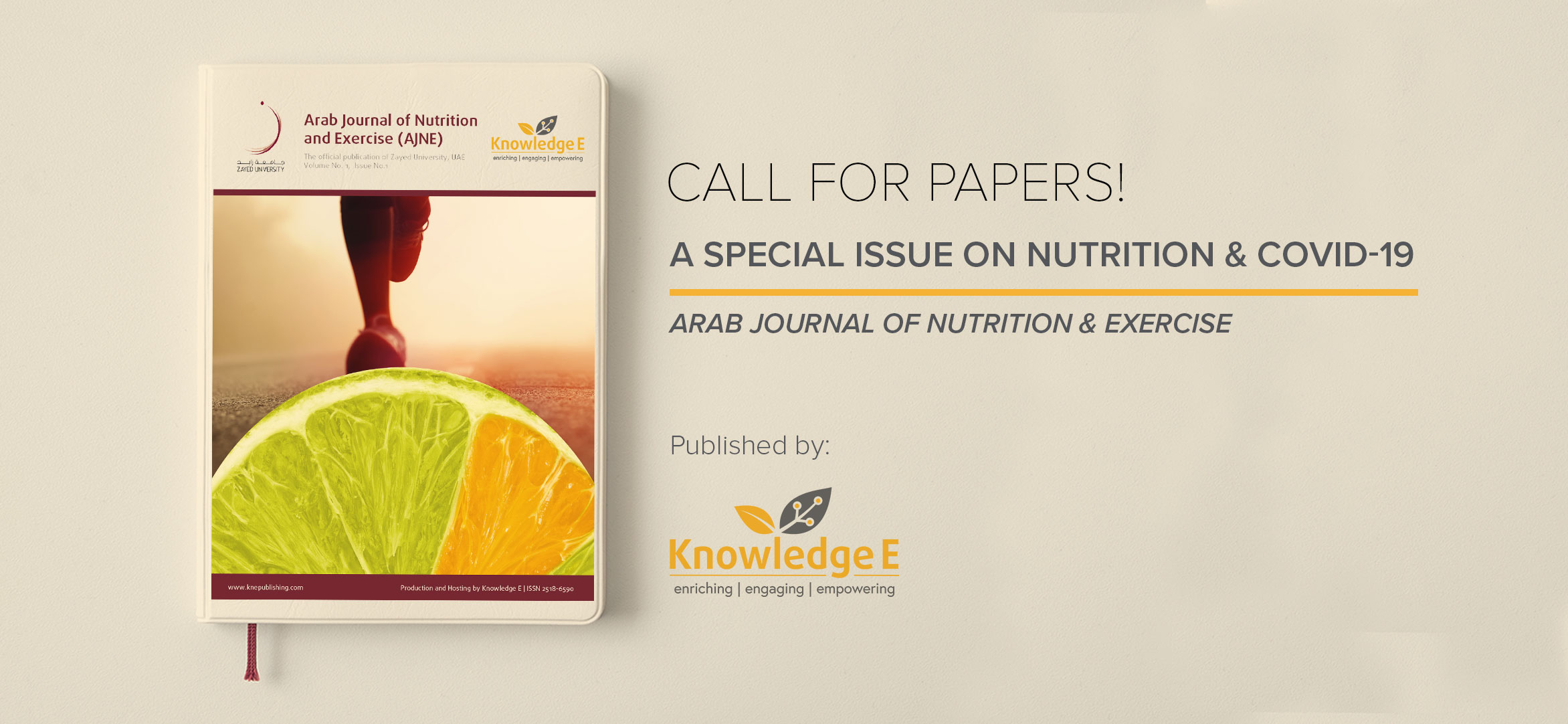 DUBAI, United Arab Emirates, 21st May, 2020 – The Arab Journal of Nutrition and Exercise (AJNE) is pleased to announce a special issue on Nutritional and Functional Wellbeing during COVID-19.
COVID-19 is a respiratory illness accompanied by a cytokine storm and high level of inflammation. This creates a major disruption in the body, affecting the appetite, energy levels, muscle mass and sleep cycles, as well as the general quality of life and wellbeing. We know that the pillars of a strong immune system are a healthy diet, adequate physically activity, and management of stress.
The AJNE is calling for papers for a special issue on Nutritional and Functional Wellbeing during COVID-19. Topics could include but are not limited to:
Body mass composition changes and COVID-19
Muscle wasting, exercise and physiotherapy in COVID-19
Nutrition management interventions in COVID-19
Food and nutrition related behavioural changes related to COVID-19
Lifestyle related changes and their effect on nutritional status related to COVID-19
Food safety and security in times of COVID-19
General wellbeing, sleep and quality of life and COVID-19
This issue's guest editor is Dr Mirey Karavatien, Associate Professor of Nutrition and the Assistant Dean at Zayed University. As it is a time-sensitive theme, articles will be published in August 2020.
Proposals and articles must be written in English. Only original research adhering to international best practices will be considered. Articles should be between 4000 and 6000 words (including abstract, introduction, method, results, discussion and references).
Proposals of 300 words (excluding references) should be submitted by May 30th, 2020. The AJNE will review and respond by June 2nd, 2020. Should your proposal be accepted, the completed article must be submitted by June 26th, 2020.
Submissions can be made through our online manuscript submission system. You need to mention that this submission is for the special issue on COVID-19 in your cover letter and include a short biographical note (maximum of 100 words).
About AJNE
The Arab Journal of Nutrition and Exercise is a fully Open Access, and peer reviewed journal. AJNE is the official publication of Zayed University and endorses the World Association of Medical Editors (WAME) Policy Statement on Geopolitical Intrusion on Editorial Decisions. The aim of AJNE is to deliver basic and advanced knowledge in the field of nutrition and exercise from various expertise that includes universities, hospitals, clinics, public health authorities, as well as from students' research projects who work at those places.
https://knepublishing.com/index.php/AJNE/index
About Knowledge E
Established in 2012, Knowledge E's name was fast to become synonymous with collaboration, professionalism and innovation. Head-quartered in Dubai, United Arab Emirates, and supported by a team of over 35 highly engaged professionals, Knowledge E works closely with over 100 clients world-wide from various types of organisations and government entities within the research and education sector to support their continued innovation and development. This is achieved by providing leading expertise, information resources and software solutions. Since its inception, Knowledge E has prudently expanded its expertise, services and technology in line with its vision of developing 'a more knowledgeable world'.
Knowledge E's three core offerings are the 3D's; 'Discover', 'Develop' and 'Disseminate'. 'Discover' through the KnE Digital Library Solutions powered by Zendy (www.zendy.io) for research literature discovery, as well as tailored content packages; 'Develop' through the KnE Learning Programmes, supporting capacity building and skills development within academia as well as the KnE Consulting Projects, serving universities on their mission to become 'world-class universities'; and 'Disseminate' through the KnE Publishing Services and the platform for Open Access publishing of regional journals and conference proceedings.