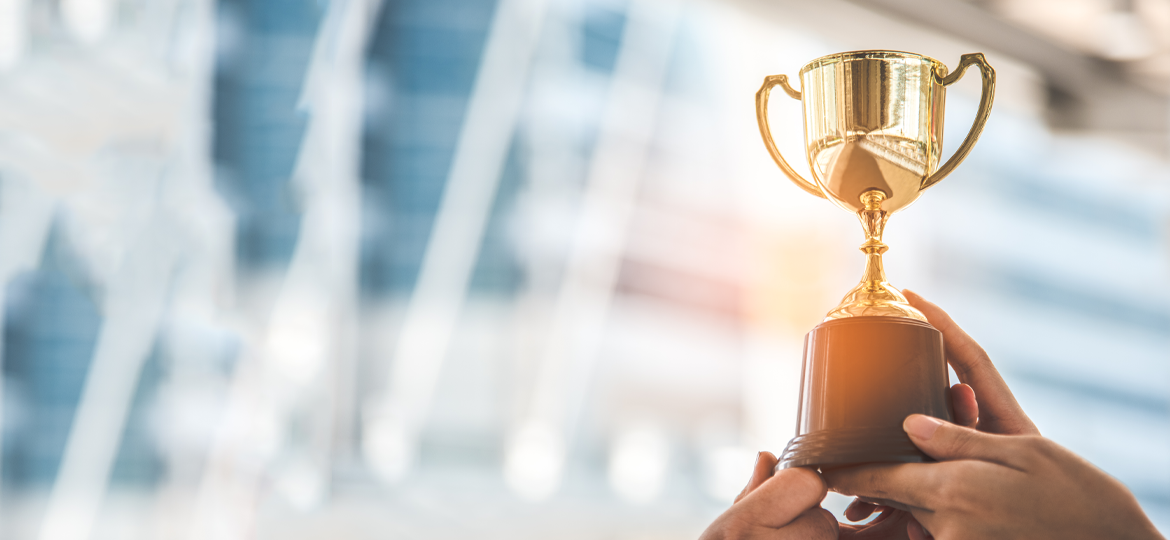 Knowledge E was proud to honour the winners and celebrate the success of the UAE Engineering Challenge which took place in partnership with Elsevier and the Institution for Engineering and Technology (IET). With more than 30 teams from eight different universities across the United Arab Emirates registering, the challenge proved to be an opportunity to uncover the talent, intelligence, and skill of different engineering students across various subfields.
The multi-disciplinary nature of the challenge allowed participants from various subdisciplines of engineering to work together in a unique way, by focusing on solving complex real-world problems in a multi-faceted manner. In addition to that, and since the invitation to join the challenge was open to engineering students of all ages and backgrounds, PhD candidates and undergraduates alike worked side by side to respond to the same case study queries.
Learners from across various subdisciplines and majors such as civil, chemical, computer, industrial, mechanical, material, biomedical, software, aerospace, sustainable and renewable energy engineering came together through this challenge. Participants' interests ranged from mechatronics, natural language processing through artificial intelligence, object tracking, emotion recognition, urban planning to machine learning.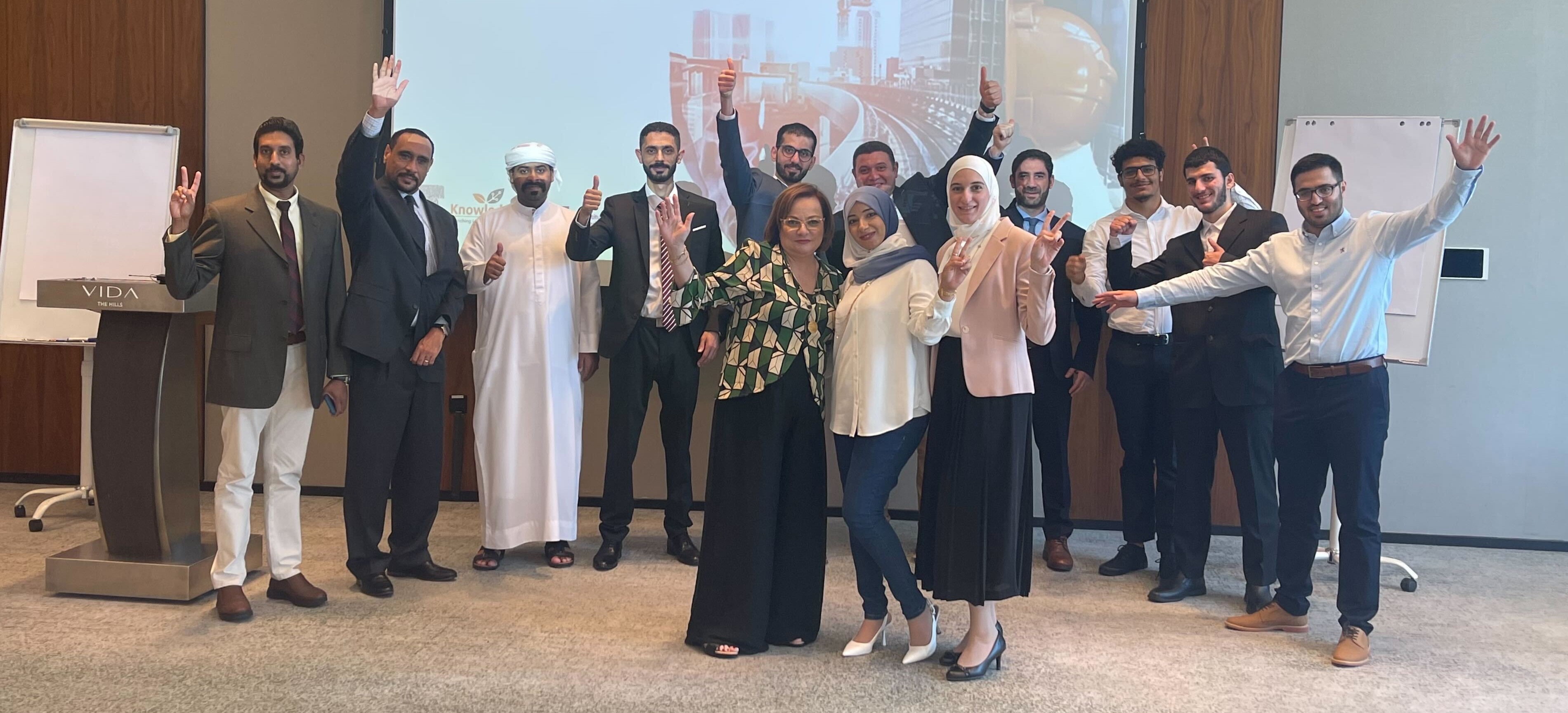 Back row from left to right: Mr. Munawar Ahammed, Abu Dhabi University - Mr. Omar Abbas, Abu Dhabi University – Mr. Ahmed Saeed Nasser Dabi, UAEU - Mr. Tha'er Khaled Shekh Ibrahem, UAEU - Mr. Mohammed H. Alzard, UAEU - Mr. Awni Battikhi, IET - Mr. Hesham Nassar, Elsevier - Mr. Abdulrahman Ahmed, AUS - Mr. Ibraheem Kanaan, AUS - Mr. Joud Hewallah, UAEU. Front row from left to right: Ms. Ameneiha Itani, UAEU - Ms. Omnia Ragab Abou El Hamd, UAEU - Ms. Ranwah Abdul Razzaq, Knowledge E.
More About the Challenge:
When engineering students from around the United Arab Emirates were invited to take part in this challenge, students from Ajman University (AU), American University of Sharjah (AUS), Higher Colleges of Technology (HCT), Khalifa University (KU), Mohamed Bin Zayed University of Artificial Intelligence (MBZUAI), United Arab Emirates University (UAEU), and the University of Sharjah (UOS) expressed their interest and registered.
Undergraduate and postgraduate university students formed teams of three to four engineers. All the teams were presented with a set of questions to which they had to respond with case studies based on research conducted through the Elsevier and IET's online resources, such as Knovel, Inspec, and Inspec analytics. Upon receiving the challenge questions, participants had two weeks to submit their responses.
The answers were assessed according to the following criteria: reasoning, scientific writing, innovation, formatting, presentation, and referencing. Six teams were selected as the winners after examining and scoring all the submissions. In a warm encouraging statement to the participants of the challenge, Regional Manager MENA at the Institution of Engineering and Technology, Awni Battikhi, said:
"Thanks to all the students who participated in the UAE Engineering Challenge; you showed great professionalism in analyzing data, solving problems and made the best use of the provided research tools. You all deserve every bit of your success, good luck for the future."
First Place: Team E-Force at the award ceremony for the UAE Engineering Challenge. From left to right: Mr. Mohammed H. Alzard, Ms. Omnia Ragab Abou El Hamd, Mr. Joud Hewalla. Absent: Ms. Sabeera Haris.
Meet the Winning Team:
Mohammed H. Alzard
Mohammed Alzard is a PhD candidate in Civil and Environmental Engineering at UAEU. His research interest revolves around climate change and how combining engineering and biotechnology solutions could mitigate it. Passionate about preserving the environment, Mohammed, in collaboration with a government entity, created a tool to calculate the carbon footprint of infrastructure projects named "RoadCO2".
Omnia Ragab Abou El Hamd
Omnia Abou El-Hamd is a PhD candidate of Civil and Environmental Engineering at UAEU. Omnia's research focus is concerned with strengthening steel structures and rehabilitation systems. Omnia has authored one journal on Thin-Walled Structures and eight papers in international and local conferences.
Joud Hewalla
Joud Hewalla is a PhD candidate majoring in Material and Structure at UAEU. His primary focus is developing the performance of a green mortar and concrete produced with 0% Portland cement and finding alternative solutions for using natural resources, such as aggregates, in concrete production. He authored and co-authored one journal and one conference paper.
Sabeera Haris
Sabeera Haris is a PhD candidate specialising in Water Resources and is currently enrolled under the Dual/Joint PhD degree with KU Leuven, Belgium. Sabeera's research focus is fermentation technology, biomass characterisation, and process simulation. She has authored six journal articles, one book chapter, and has two patents filed.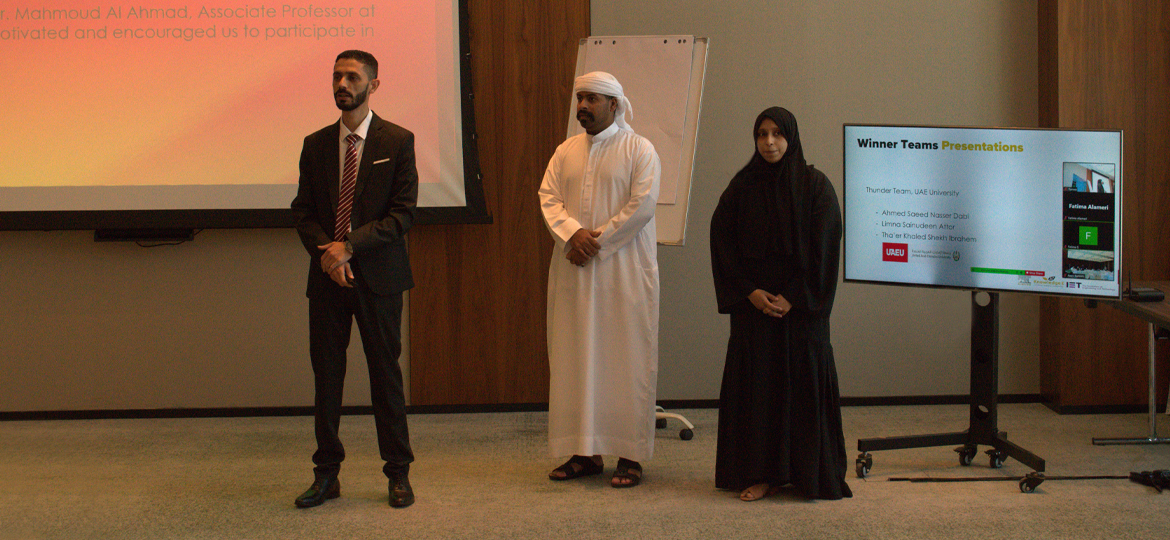 Second Place: Team Thunder at the UAE Engineering Challenge Award Ceremony at Vida Hotel. From left to right: Mr. Tha'er Khaled Shekh Ibrahem, Mr. Ahmed Saeed Nasser Dabi, Ms. Limna Sainudeen Attoor.
1st Place: Team E-Force from UAEU 
Mohammed H. Alzard – Sabeera Haris – Joud Hewalla – Omnia Ragab Abou El Hamd.
2nd Place: Team Thunder from UAEU 
Tha'er Khaled Shekh Ibrahem – Limna Sainudeen Attoor – Ahmed Saeed Nasser Dabi.
3rd Place: Team Genius Engineers from UAEU
Alaa Ahmed Qasem Al Hamidi – Fatima Saeed Humaid Alketbi – Fatima Saleh Suhail Alameri – Mahra Abdulla Salem Aldhaheri.
4th Place: Team Jordanian Engineers from UAEU
Mohammad Ghazi Alshneeqat – Trad Abdullah Ahmad Abualbandora – Ahmad Hussein Al Tamimi.
5th Place: Team Universe from UAEU

Mahra Naji AlMaqbali – Jawaher Bader Al Tamimi – Lin Ahmad Tayara – Mariam Alshanqiti.
6th Place: Springers from AUS 
Abdelrahman Ahmed – Ibraheem Kanaan – Zubeir Allum Saib – Mohammad Tameem Kabbani.
The Ceremony
The Engineering Challenge Award Ceremony was jointly organised and hosted by Elsevier, IET, and Knowledge E. All six winner teams were invited to the event where the first four teams were able to present their case studies and were awarded their prizes according to their rank in the challenge. The first team's case study will be published on Elsevier.com and featured on Elsevier's social media channels. The senior engineering team from Elsevier handed the certificates to all winner teams at Vida Hotel, where the ceremony took place. Other teams also received prizes which would be beneficial to their research careers.
Interested in our news? For media enquiries please reach out to us by email to pr@knowledgee.com 
Here's a Video of Our Winning Teams at the Event: