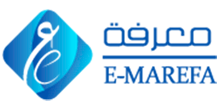 E-Marefa, the leading digital Arabic database which complies with the international bibliographic standards (e.g., MARC21), which makes it searchable, accessible and interoperable with other databases and libraries.
E-Marefa database contains more than 1070 Academic journals and statistical reports issued by various bodies in Arab world in three languages: Arabic, English and French.
E-Marefa facts and Numbers;
150,000 articles and statistical reports.
11,000 theses and dissertations in full text;
8500 book reviews issued in the Arab world;
13,000 theses and dissertations abstracts;
60,000 research abstracts;
5000 Arabic reviews of international theses ,and;
280 universities, research centers, statistical apparatus and regional organizations in the Arab world in 19 countries.
E-Marefa database encompasses diverse disciplines and scientific specialties whereas each specialty has its own database including Humanities, Social sciences, Natural sciences, Engineering sciences, Medical sciences, associated sciences, pharmacology and health sciences, Economics, finances and business administration, Library science, computer science and information technology, Periodic statistical reports in addition to Middle Eastern and Islamic studies.

[contact-form-7 404 "Not Found"]