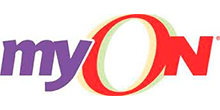 A Complete Digital Literacy Program
myON is a complete literacy solution that reinvents the ways in which students and teachers interact with text. myON provides anytime, anywhere access to a library of more than 8,000 enhanced digital books with multimedia supports, real-time reporting and assessments and embedded close reading tools. Our innovative digital literacy platform allows students not only to read, but to read closely, to engage with digital texts in new ways that will transform the entire learning experience.
myGROWTH
myON enables teachers and administrators to track students' reading activity and growth at the student, class, building and district level. Through a partnership with MetaMetrics, myON provides actionable data on: number and type of books opened and read; time spent reading; completion of book quizzes; results of regular benchmark assessments; and a report that forecasts long-term reading growth. As myON expands to include digital literacy tools, the millions of students reading on myON will experience exponential literacy growth when they can perform close reading tasks within our platform.
Capstone books are the core of the myON program.
Capstone has published more than 14,000 books in the past 20 years, earning our place as the #1 choice among students and teachers alike. Our strong family of imprints, including Capstone Press, Stone Arch Books, Compass Point Books, Picture Window Books and Heinemann-Raintree, provides award-winning fiction and titles for Pre-K-12 readers.

For more information please enter your details below

[contact-form-7 404 "Not Found"]