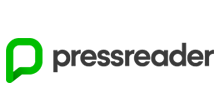 KnowledgeE are pleased to offer you PressReader service in the Middle East. PressReader provides your users with access to over 125 Middle Eastern Newspapers including The Gulf News, Albayan, Oman Daily observer, Kuwait Times, The Saudi Gazette and many more. In addition PressReader has over 3000 publications in 100 countries and 60 languages including the Guardian, The Daily Mail and The Washington Post.
PressReader allows your users to read newspapers from any PC tablet or mobile device as well as from your library. Users can highlight articles make comments on them and share them on social media sites.
PressReader also has a unique feature which allows the user to search for a specific topic across the entire newspaper range to see which Newspapers are showing articles on that subject.
Fully customisable newsfeed to show the users preferred newspapers on login.
For a free trial or further information leave a message below or give us a call on +971 5661 63133
[contact-form-7 404 "Not Found"]