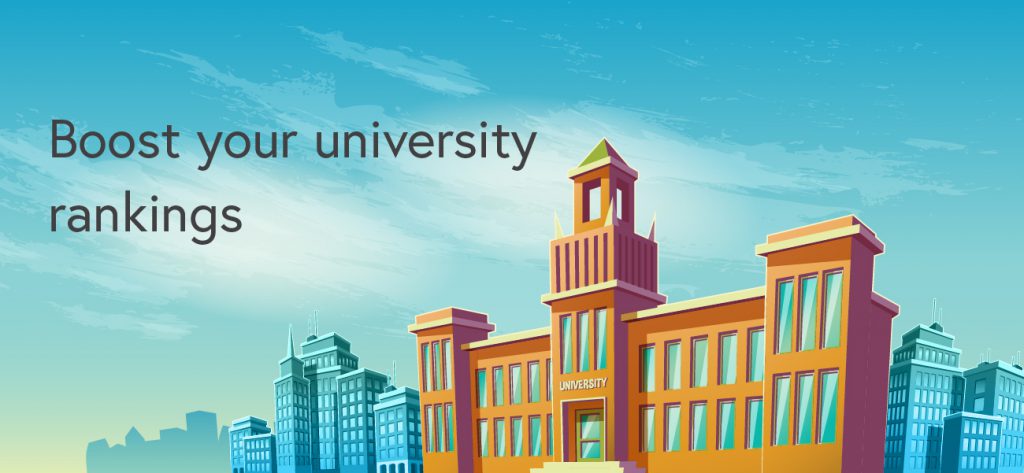 Interviewer: "Which is the best university ranking system?"
University Chancellor: "The one in which we rank highest"
Every university leader wants to understand why their university ranks where it does and above all needs a strategy to improve their performance in each of the various league tables. Knowledge E analyses university performance against the methodologies of the major ranking systems and supports the university as it builds its short, medium and long-term strategy to maximise performance, where we identify areas for improvement and develop customised training workshops and masterclasses with international subject-matter experts to ensure universities are aware of best practices from around the world.

The course will begin with an overview of all the university ranking systems and proceed to systematically deconstruct the methodologies utilised by the major ranking bodies (including QS, Times Higher Education, Shanghai Ranking, U.S. News)  with the objective of increasing the participant's understanding of each assessment parameter with detailed exploration of the impact of bibliometric factors and strategies that will foster the positive performance of university in the ranking system. It will then provide instruction on university data collection, sharing, and central compilation, with a concentration on practical techniques and the successful submission of data to the relevant data-collection portal. This interactive course will apply a combination of content-rich informational sessions and activities specifically oriented for practical application of knowledge for the participants.

Aim
To enhance the participant's understanding of the most prominent ranking systems in order to empower them to make informed actions that will positively impact the performance of the university.

Objectives
By the end of the course, participants should be able to:
Describe the methodologies utilised by ranking bodies for assessing universities and the impact of bibliometric factors on university performance
Evaluate current internal data collection and submission practices to identify areas for improvement
Apply techniques for purposeful data collection across the university
Define the various components of the reputation survey
Strategise and implement techniques for improving university performance in the reputation survey
Identify and discuss future action items for implementation of gained knowledge

Content Overview
Deconstruction of the various international university ranking systems
How bibliometric indicators are used and strategies to improve performance
Data collection techniques
Effective use of data submission portals
Detailed view of the reputation survey and strategies to raise university performance

Intended Audience
Senior university managers with responsibility for strategic planning, public reporting, funding allocation, conducting and presenting university evaluation, benchmarking or comparison
Administrators or faculty who are responsible for data collection and/or submission to university ranking bodies

In a fast-growing region that actively seeks to provide the best student experience, state-of-the-art research programmes and make a real impact on its community, it is natural for university leaders to look outside the campus for expert opinion and diverse experience – both in its permanent staff and in its external partners. Knowledge E is engaged with universities, research centres and government bodies in multiple consultancy projects covering policy and guidance on research, publication and promotional protocols, curriculum reform, collaboration, ranking performance, commercialization of research and reputation strategy.
Many institutions have legacy policies, guidelines and curricula that no longer align with their ambitions, and they routinely benefit from having an independent group of subject-matter experts review and provide suggested modifications or replacements more likely to achieve targets. As established universities seek partnerships in emerging regions, competition to reach an agreement with top universities becomes fierce, and taking steps to make your institution stand out as the obvious choice is paramount to success.
Many prospective students and academics aim for a highly ranked organization, so an in-depth knowledge of the different league tables, their methodologies and data sources is the first step to understanding why your institution ranks where it does and drawing a path to improvement. Knowledge E consultants guide you through this process providing data, analysis and interpretation of results across a range of the most important international rating systems and use these as the basis for creating strategies for improvement in close cooperation with our customers.
As we see a renewed urgency in the shift towards knowledge-based economies, the emphasis has begun to slip from publication to commercialization, and in some countries, we are seeing new laws facilitating innovation and entrepreneurship in academic institutions. Knowledge E is active in this field providing support in governance, documentation and analysis, always aiming to bring the results of extensive study of international best practice to our partners.

Get in touch with us to start a conversation!