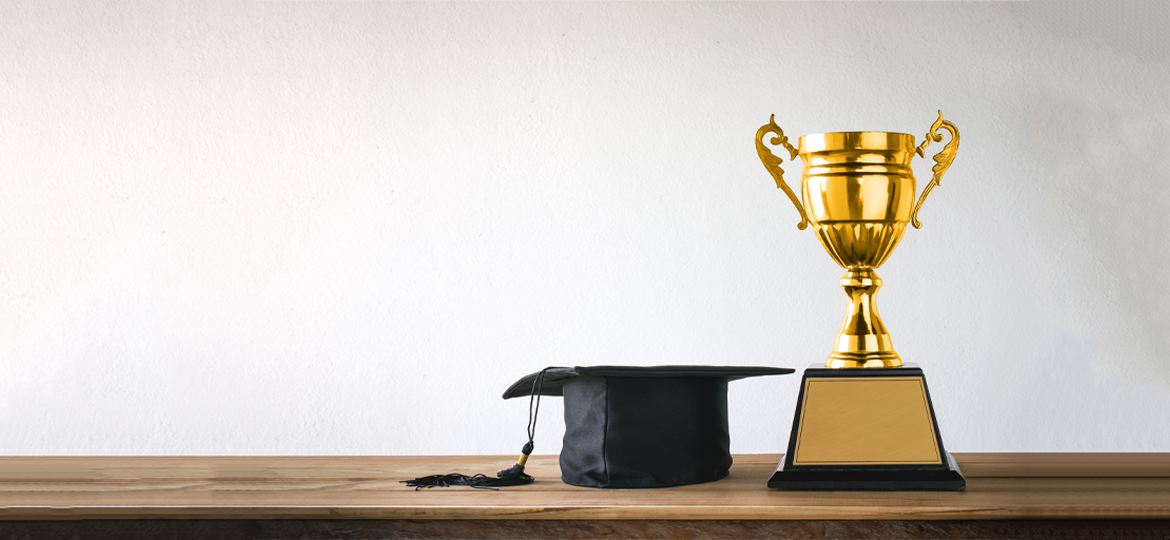 Times Higher Education (THE) has recently published the results for its World University Rankings for 2023, in partnership with Elsevier. This year's rankings are the most extensive to date, examining 1,799 universities across 104 countries. Another 526 institutions have been added to the charts under 'reporter status'. These are universities that have submitted their data but did not make it to the table.
Data relating to more than 2500 universities was analysed for this year's rankings, including 121 million citations and survey responses from 40,000 scholars. This year's ranking features five new African countries that have entered the charts for the first time – Namibia, Mauritius, Mozambique, Zambia, and Zimbabwe.
The Top Ten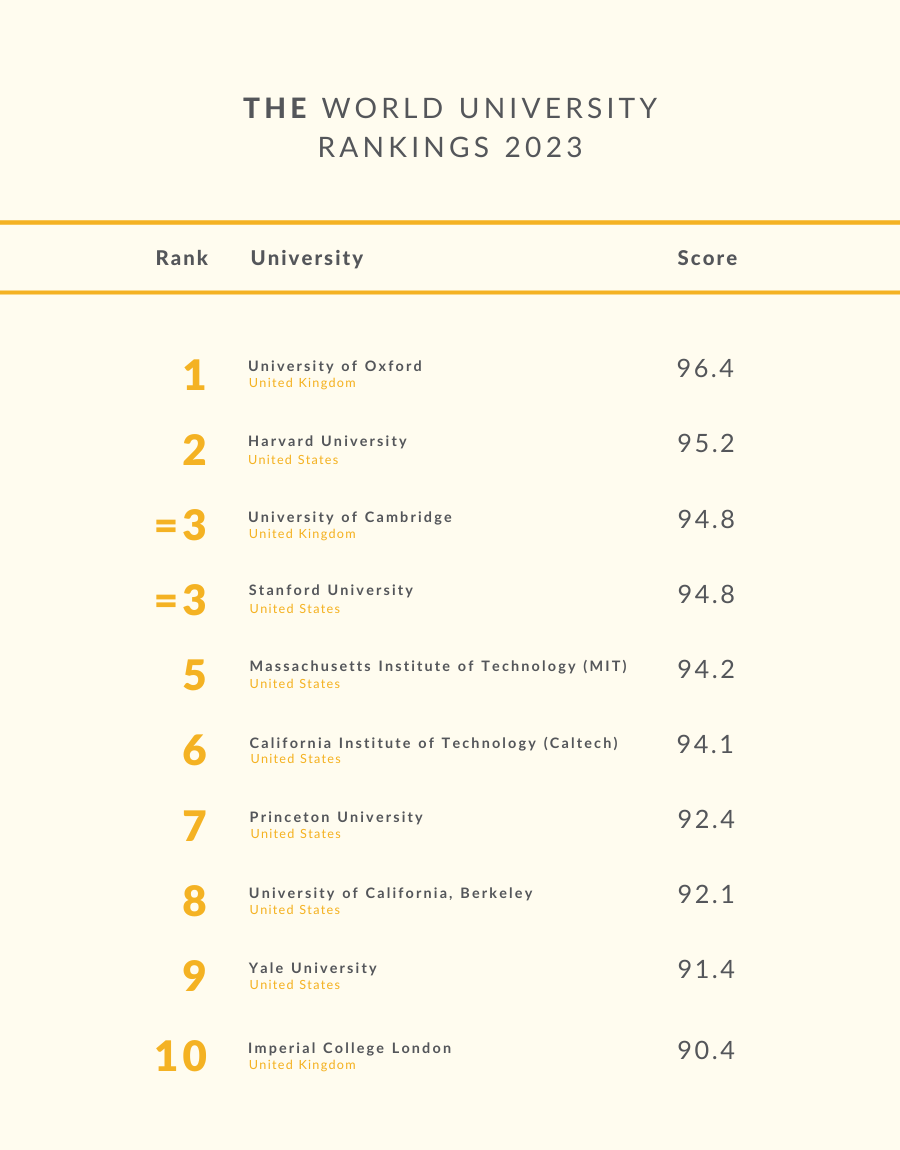 Source: Times Higher Education World University Rankings 2023
For the seventh consecutive year, Oxford University is still occupying first place. Harvard University is alone in second place this year, while the University of Cambridge and Stanford University share third place. Like last year, the Massachusetts Institute of Technology remains in fifth place; meanwhile, the California Institute of Technology drops four positions, landing in sixth place this year. Princeton University; University of California, Berkeley; and Yale University all retain their positions from last year in seventh, eighth, and ninth place, respectively. Finally, Imperial College London has advanced two positions from last year and has ranked in tenth place this year.
Exclusions:
Criteria for Times Higher Education World University Ranking and eligibility imposes that, inevitably, some institutions will be excluded. Here are THE top reasons for exclusion:
• If an institution does not teach undergraduates, it does not qualify for ranking.
• If a university's research output did not exceed 1000 publications (2017-2021).
• If an institution published less than 150 publications per year.
• If 80% of a university's research output relates to only one of THE's 11 subject areas. Those areas are: Arts and Humanities, Business and Economics, Clinical and Health, Computer Science, Education, Engineering, Law, Life Sciences, Physical Sciences, Psychology, and Social Sciences.
Most Represented Countries:
While universities from the US and the UK continue to take over the top ten, China's institutions continue to score higher for citations, increasing the average score for this metric from 55.6 to 58.0 this year. An associate professor at the University of Leicester in China, Wei Zhang, called the nation a science superpower with quality research outputs increasing every year.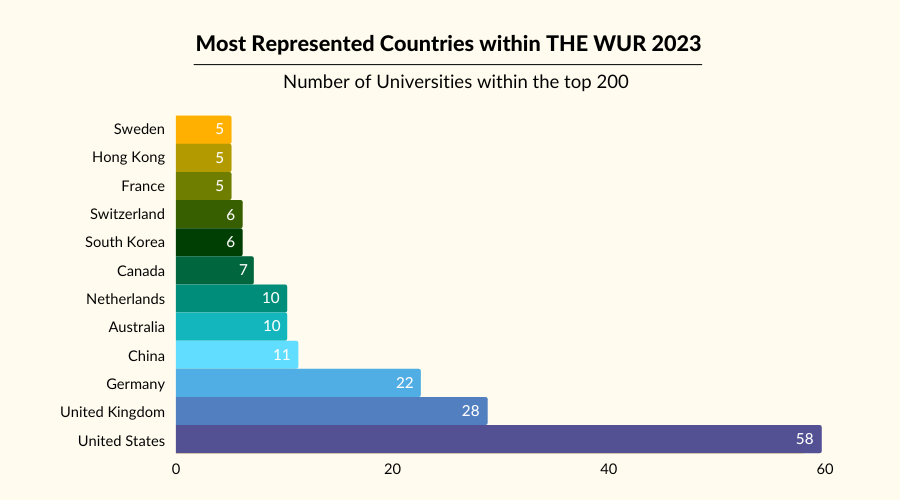 Source: Times Higher Education World University Rankings 2023
Top Universities by Individual Indicator:
The performance indicators that THE World University Rankings follow are grouped into five main areas: teaching or the learning environment; research with a focus on volume, income, and reputation; citations and research influence; international outlook including staff, students, and research; and finally, industry income or knowledge transfer. Each indicator has a specific weight attached to it, and the average of all scores ultimately dictates each university's final rank within the overall rankings.
However, it is worth looking at each indicator separately to commend the best-performing institutions across each metric. Within teaching, Harvard University scores the most once again, with a score of 98.4. Oxford University places first within the research metric with an impressive 99.7. Furthermore, the following six universities all earned a full score for the citations indicator:
• Arak University of Medical Sciences – Iran
• Cankaya University – Turkey
• Duy Tan University – Vietnam
• Golestan University of Medical Sciences – Iran
• Jimma University – Ethiopia
• Qom University of Medical Sciences – Iran
Similarly, 13 universities from around the world received a full score for the industry income indicator:
• Istanbul Technical University – Turkey
• Koç University – Turkey
• Korea Advanced Institute of Science and Technology (KAIST) – South Korea
• LMU Munich – Germany
• National Cheng Kung University (NCKU) – Taiwan
• National Research Nuclear University MEPhI – Russian Federation
• Shanghai Jiao Tong University – China
• Technical University of Munich – Germany
• Tsinghua University – China
• Wageningen University & Research – Netherlands
• University of the Witwatersrand – South Africa
• Yıldız Technical University – Turkey
• Zhejiang University – China
As for the final indicator, international outlook, it was Macau University of Science and Technology which took over first place for another year, with a score of 99.7 – down from 99.9 last year.
Africa Rises Fast:
The number of African universities within THE World University Ranking is increasing quickly. This year, 25 new African universities entered the ranking for the first time. Back in 2018, only nine universities from Africa had made it to the rankings. This year, a total of 17 African countries are represented on the charts through the African institutions that made it.
The biggest score increase was related to the citations. This, explained Gordon Adomdza, associate professor of entrepreneurship and innovation at Ashesi University in Ghana, could have partly been because "A lot of local researchers were engaged at the start of the pandemic to finish off projects that global experts couldn't travel for".
Overview of the MENA region: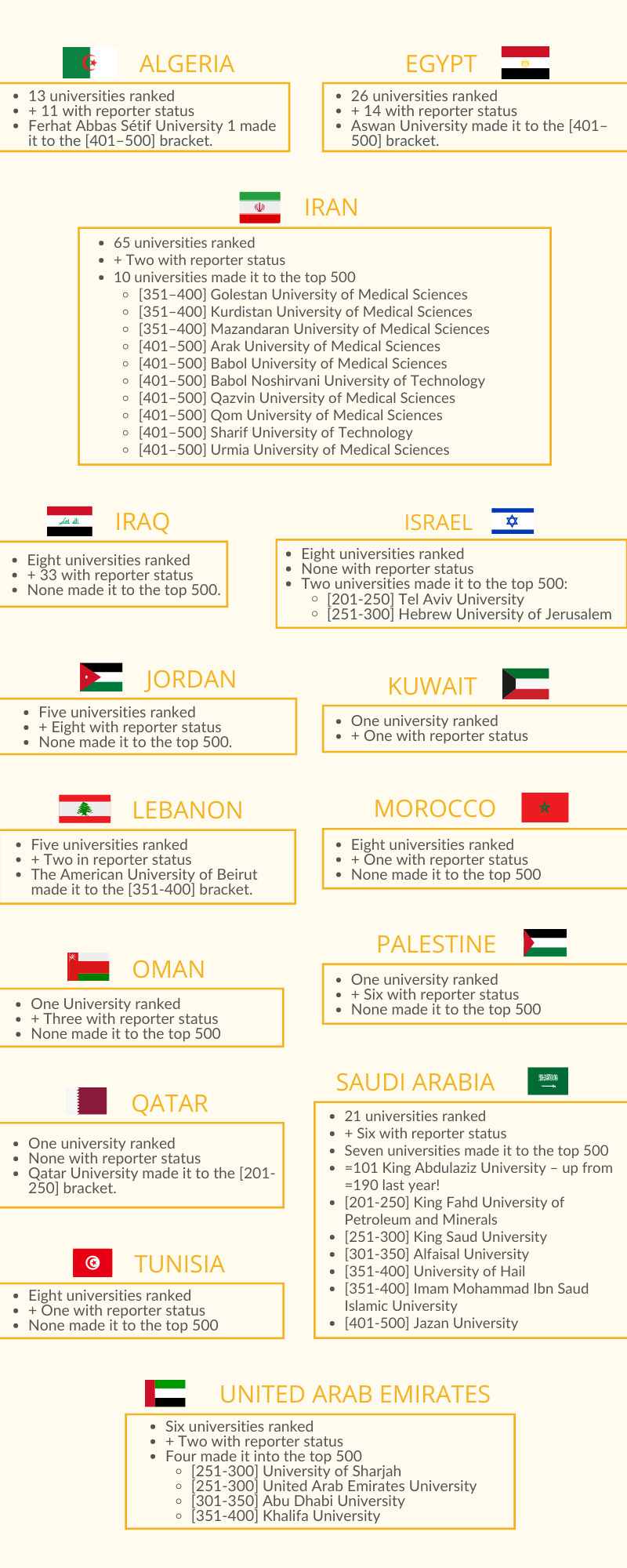 Source: Times Higher Education World University Rankings 2023
Sources:
Forge world-class universities
Assess, develop, and implement strategies to improve your institution's leadership excellence and aid global reputation ambitions with our training and consulting programmes. Click below for more information.