DUBAI, United Arab Emirates, 18th April 2018 – Knowledge E is pleased to announce that, KnE Publishing has begun publishing full text content in non-English language starting with Spanish. Spanish is the third most widely spoken language in the world (after Mandari Chinese and Hindi) and is spoken by 350 million people as their first language. English is a close fourth with 340 million people. Spanish is among the 6 official languages of the United Nations and are used in daily communication among academics. Much of the world's non-English language academic publications are excluded from international databases and Knowledge E has dedicated part of its platform for those scholars who wish to present their research results in their own tongue using a modern, open access, online medium.
Spanish: https://knepublishing.com/index.php/KnE-Engineering/issue/view/77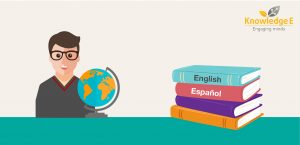 For any enquiries related to publishing, please send us an email at publishing@18.184.2.19.
About Knowledge E
Knowledge E was established in 2012 and has quickly become synonymous with collaboration, innovation and progression. Based in Dubai, UAE, at the centre of a region of vision and ambition, Knowledge E works passionately with all types of organisations and government entities within research and education to support their continued innovation and development by providing them with leading expertise, information resources and software solutions. This does for example include the KnE eLibrary Solution for research literature discovery and the KnE Publishing Platform for open access journal and conference proceedings publishing and indexing, along with associated research and publishing services for capacity building within academia.