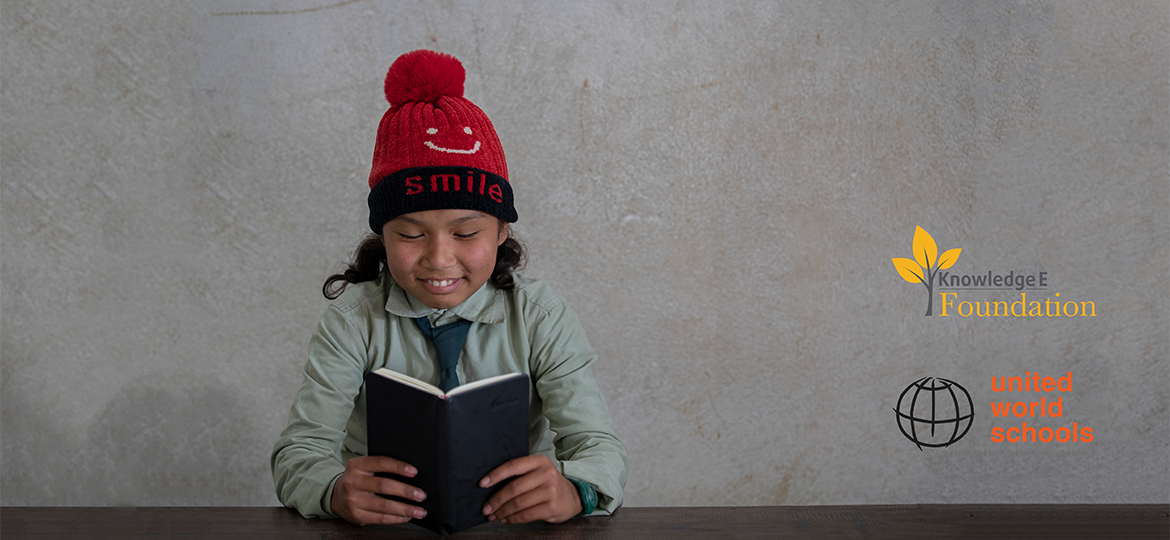 Knowledge E has partnered with international NGO United World Schools to provide a transformative education to hundreds of girls from marginalised communities across Cambodia, Myanmar, and Nepal
Educational innovator and publisher Knowledge E is bringing its vision of 'a more knowledgeable world' closer to life through its partnership with award-winning NGO United World Schools (UWS). Together, Knowledge E and UWS will reach 450 girls from some of the most remote and marginalised communities in the world to provide them with inclusive, quality education.
Education is a fundamental human right, but the UN has warned that the Covid-19 pandemic could reverse a decade's progress in global education, impacting girls from low-income rural areas disproportionately. Currently, 132 million girls around the world are not in school. Even when girls attend school, they face unique challenges and barriers simply because of their gender. It is estimated that Covid-19 has put 2.5 million more girls at risk of underage marriage, causing the greatest surge in child marriage in 25 years.
Knowledge E has been leading the way in access to education for almost a decade, not only through its educational training programmes and resources but also through various initiatives including its partnership with UWS. In 2020, Knowledge E supported UWS through Dubai Cares to build a school and cultivate a culture of education in the remote community of Svay Rieng, Cambodia. 
Building on their commitment to create 'a more knowledgeable world', Knowledge E is working alongside UWS to break down the barriers which prevent girls from accessing education in remote areas across Cambodia, Myanmar, and Nepal. This will be done by working closely with families to raise awareness about the rights of all children. Both Knowledge E and UWS will provide targeted support to girls most at risk of dropping out of school or being excluded from education.
Through this partnership, UWS will also provide gender-inclusive approaches and training to schools, set up girls' and mothers' clubs to advocate for girls' rights, employ, recruit and train female teachers in remote communities, and provide separate toilets and washing facilities. It is estimated that this partnership will help provide approximately 450 girls with inclusive, quality education in a safe learning environment. The positive ripple effect of this initiative could last for generations to come.
Kamran R. Kardan, CEO of Knowledge E, commented: "Our partnership with United World Schools is another way to provide education where it's needed most. We are confident that supporting the education of girls will contribute to promoting a culture of inclusion within their communities, and we look forward to similar future initiatives where we can foster gender equality and create more chances for education".
Tim Howarth, CEO of United World Schools, said: "We are delighted to be partnering with the team at Knowledge E to provide hundreds of girls from remote and marginalised communities across Asia with the education they deserve. It is every girl's human right to have access to quality education and the chance to shape her own future. Women's education is a vital and important tool which, over time, can uplift economies, improve health and even save lives. Through these meaningful, innovative partnerships, we can transform thousands of lives for the better through education."
About United World Schools
United World Schools (UWS) builds schools in some of the most remote, impoverished villages in the world and champions inclusive, innovative and sustainable education, including remote learning during the Covid-19 pandemic. Since 2008, UWS has built 260 schools and trained 1,200 local and government teachers and reached 43,000 children in Nepal, Myanmar and Cambodia with life-changing education. UWS is a 2019 WISE Award Winner for educational innovation, and a 2020 UNESCO King Sejong Literacy Prize winner for ethnic minority literacy programmes.
Read more about Knowledge E here.
For more information, you can always reach out to us at: pr@knowledgee.com.