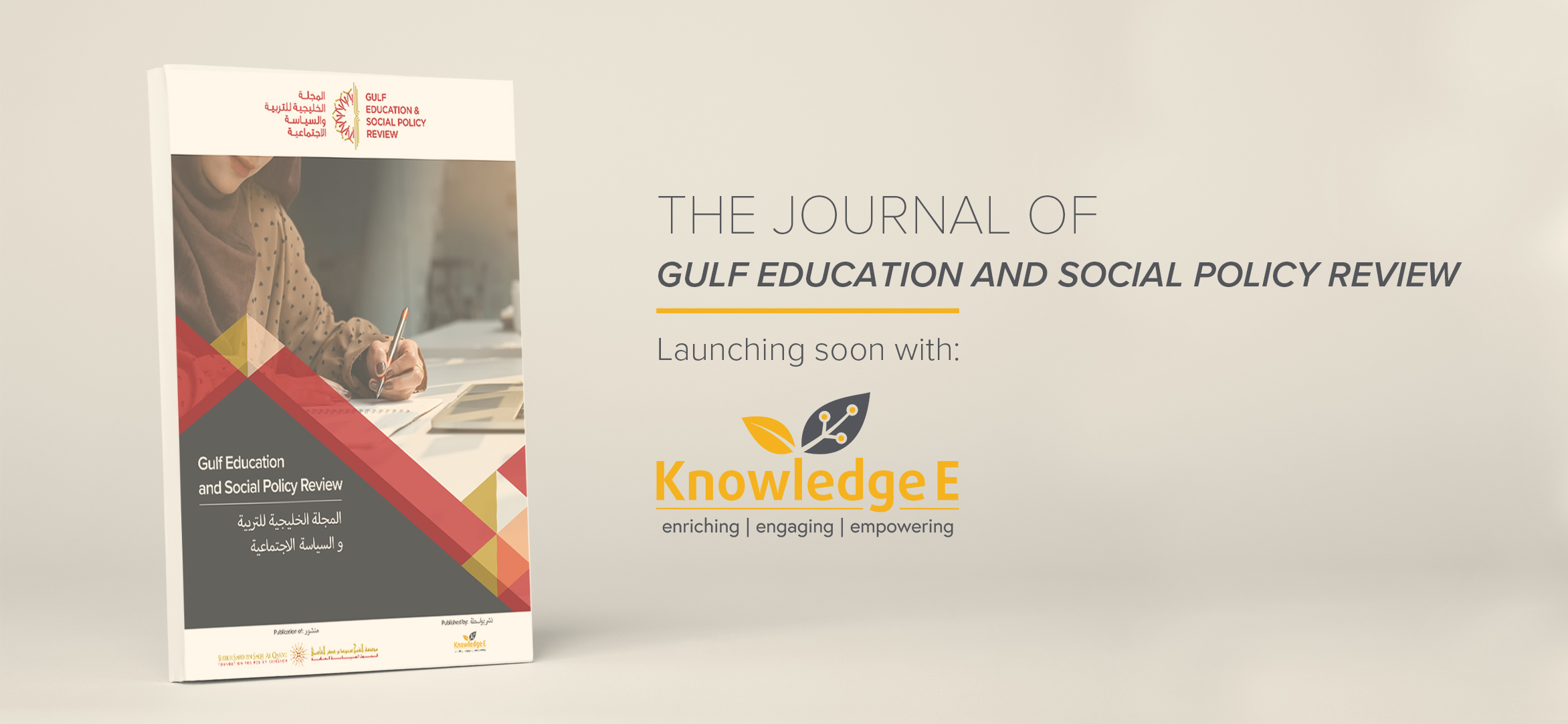 DUBAI, United Arab Emirates, 29th April, 2020 – We are pleased to announce that the first issue of Gulf Education and Social Policy Review will be published on our Open Access publishing platform, KnE Publishing.
Gulf Education and Social Policy Review is the biannual peer reviewed publication of the Sheikh Saud bin Saqr Al Qasimi Foundation for Policy Research, dedicated to advancing the knowledge and understanding of education and social policy in the Gulf region.
Emily Choynowski, Editor-in-Chief of Social Sciences at KnE Publishing, said: "We are extremely pleased to be working with the Al Qasimi Foundation to launch Gulf Education and Social Policy Review. This new journal will be a valuable resource to all scholars and policy-makers involved in education and social policy in the Gulf region."
Dr. Natasha Ridge, Executive Director of the Al Qasimi Foundation and Founding Editor of the new journal, said: "The Foundation has always been a champion of high-quality research and Open Access publishing in the GCC region. Gulf Education and Social Policy Review expands our knowledge sharing efforts in order to inform policymaking and address important education and social issues."
Learn more about the aims and scope of this new journal here!
For more information about our publishing services for journals and conference proceedings click here. 
About GESPR
The Gulf Education and Social Policy Review is a product of the Sheikh Saud bin Saqr Al Qasimi Foundation for Policy Research. This foundation was established in 2009 to aid in the social, cultural, and economic development of Ras Al Khaimah, a northern emirate in the United Arab Emirates. The journal supports emerging regional academics, presents the Gulf region as a fruitful area of study for established international scholars, and penetrates the silos of different educational actors to inform best practices and agendas worldwide. In line with this, the journal provides publishing support for local and regional conferences, including biannual meetings of the Gulf Comparative Education Society.
https://knepublishing.com/index.php/gespr/index
About Knowledge E
Established in 2012, Knowledge E's name was fast to become synonymous with collaboration, professionalism and innovation. Head-quartered in Dubai, United Arab Emirates, and supported by a team of 30 highly engaged professionals, Knowledge E works closely with over 100 clients world-wide from various types of organisations and government entities within the research and education sector to support their continued innovation and development. This is achieved by providing leading expertise, information resources and software solutions. Since its inception, Knowledge E has prudently expanded its expertise, services and technology in line with its vision of developing 'a more knowledgeable world'.
Knowledge E's three core offerings are the 3D's; 'Discover', 'Develop' and 'Disseminate'. 'Discover' through the KnE Digital Library Solutions to institutions and individuals for research literature discovery, as well as tailored content packages; 'Develop' through the KnE Learning Programmes, supporting capacity building and skills development within academia as well as the KnE Consulting Projects, serving universities on their mission to become 'world-class universities'; and 'Disseminate' through the KnE Publishing Services and the platform for Open Access publishing of regional journals and conference proceedings.