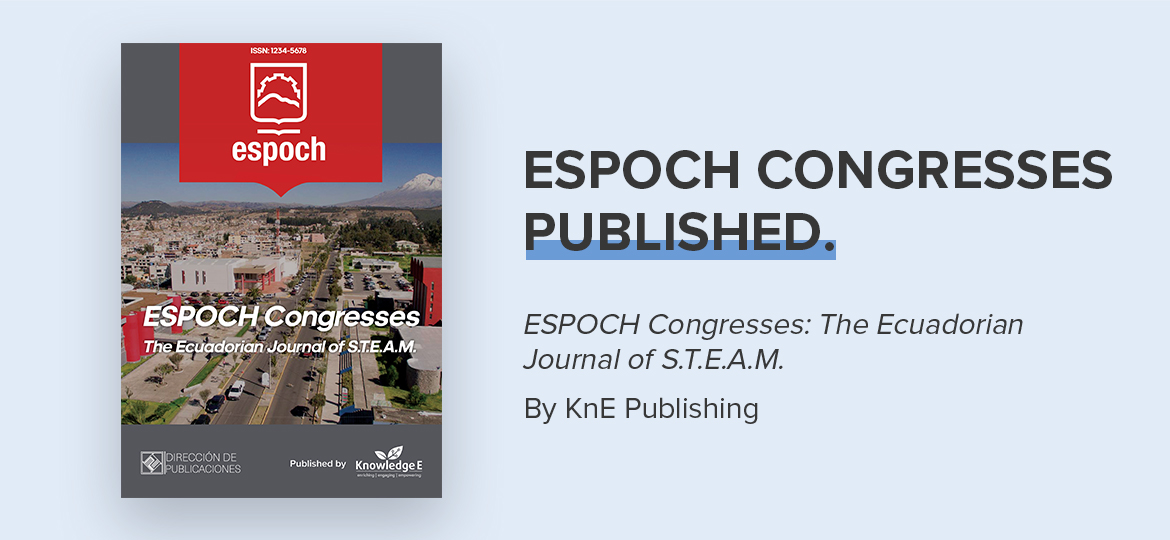 DUBAI, United Arab Emirates, 19th September 2021 – KnE Publishing has launched a new journal, in collaboration with Escuela Superior Politécnica de Chimborazo (ESPOCH).
ESPOCH Congresses: The Ecuadorian Journal of S.T.E.A.M. showcases the valuable research produced by Ecuadorian researchers in Science, Technology, Engineering, Arts and Mathematics. This publication is the first in a new product series launched by KnE Publishing which allows institutions to collect the ground-breaking research produced during their conferences and symposia. The collected research would then be exhibited it in a dedicated publication, increasing the lifespan of each event and enhancing the profile, visibility, and reputation of the host institution.
ESPOCH Congresses: The Ecuadorian Journal of S.T.E.A.M. will contain a series of special issues, each based around one of ESPOCH's annual conferences and comprised of original research articles derived from papers presented at the event. Forthcoming issues will cover a range of S.T.E.A.M. disciplines, including Technological Engineering; Basic Sciences; Agricultural Sciences; Health Sciences; Life and Environmental Sciences; and Social and Administrative Sciences.
The journal provides a forum to exchange new research and methodologies in S.T.E.A.M. between researchers, teachers, and students. It contributes to the generation of new initiatives and dissemination of scientific developments between national and international academic communities, and supports ESPOCH's goal to identify and solve social, scientific, and technological issues facing Ecuador and the wider region.
To read the latest articles from ESPOCH Congresses: The Ecuadorian Journal of S.T.E.A.M., click here.
KnE Publishing's Conference Archive Service
Many regional conferences go unpublished. The new Conference Archive Service offers universities, ministries, research centres, and institutions the chance to maximise the reach, potential, and impact of their research. Publishing conference proceedings can expand the durability of an event. Once published, the research will be indexable and discoverable through Portico archiving, so content is never lost and remains freely available long after the conference has taken place. It is a great way to share your faculty's knowledge and expertise with the world.
Learn more about how you can benefit from KnE Publishing's new service here.