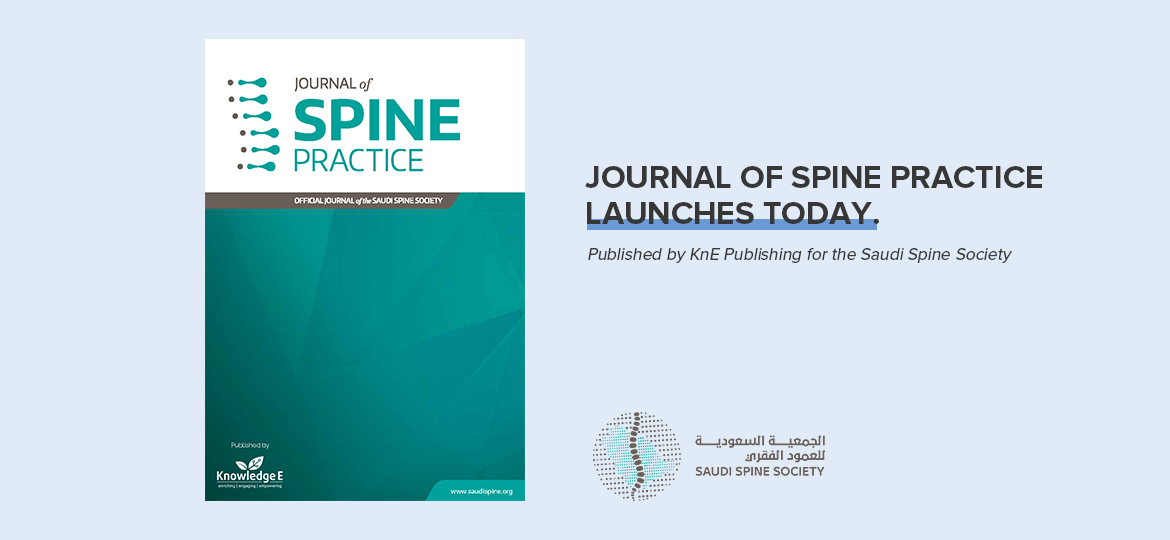 DUBAI, United Arab Emirates, 1st of November 2021 – KnE Publishing has launched a new journal on behalf of the Saudi Spine Society, the Journal of Spine Practise (JSP).
We are pleased to announce the publication of the first issue of the Journal of Spine Practise (JSP). JSP is an Open Access peer-reviewed journal specialising in all areas of spine practice. It is owned and founded by the Saudi Spine Society. With this journal, the Saudi Spine Society hopes to promote excellence in the field of spine care through the dissemination of exceptional and outstanding research produced by regional and international researchers and medical practitioners.
The journal will publish articles covering every aspect of spinal care including orthopaedic surgery; neurosurgery; diagnostic and interventional radiology; anaesthesia and pain management; physical medicine and rehabilitation; neurology; rheumatology; physical therapy; nursing; chiropractic medicine; and alternative medicine.
JSP will be published three times a year, with one issue comprised of oral and poster abstracts from its annual conference, and two issues comprised of original research articles, systematic reviews and meta-analyses, review articles, clinical practice guidelines, evidence-based reviews, technical reports, surgical techniques, and case reports.
"We are honoured to be able to support the Saudi Spine Society in its mission to promote global excellence in spine care and look forward to working with the organisation to develop the Journal of Spine Practise into a high-impact, globally recognised publication".
Emily Choynowksi, PhD (Head of Publishing).
This inaugural issue contains the proceedings of the 5th Annual Conference for the Saudi Spine Society. To read the first issue of the Journal of Spine Practise, click here.
More about the Saudi Spine Society:
The Saudi Spine Society has five corporate values that it remains faithful to: leadership, excellence, professionalism, transparency, and people. With these values in mind, the Saudi Spine Society hopes to continually engage & develop its members, support high-quality research, improve evidence-based spine care in Saudi Arabia, and disseminate reliable health publications related to spinal disorders and treatments.