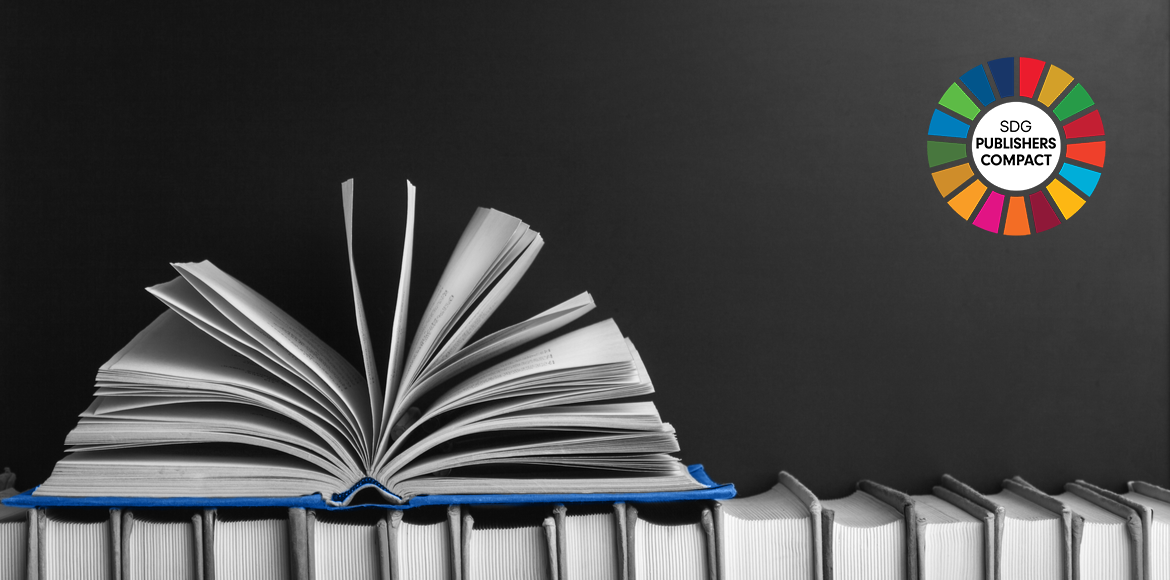 KnE Publishing signed the Sustainable Development Goals (SDGs) Publishers Compact and is proud to be among the first institutions in the Middle East to sign – supporting a more sustainable future. Committed to the SDGs, KnE Publishing hopes to find new ways to promote the global initiative's 17 themes and spread information about their significance through its publications.
The SDGs, which were unanimously adopted by the 193 United Nations member states in 2015, call for improving the lives of individuals everywhere through eradicating hunger, poverty, and gender inequality while protecting the planet. The SDG Publishers Compact includes a list of ten approaches that publishers can adopt to contribute to achieving the SDGs during the decade of action (2020 – 2030).
Emily Choynowski, Head of KnE Publishing, remarked, "Raising awareness about inclusion, quality education, health and well-being, gender equality, climate action and other SDG themes has always been a priority for KnE Publishing. We look forward to intensifying our efforts to address the pressing issues of our time. By advocating for the SDG themes through our publications, collaborations, and operations, we hope to inform and inspire action towards more sustainable practices – and ultimately, a more sustainable world".
Established in 2012, Knowledge E was fast to become synonymous with collaboration, professionalism and innovation. Headquartered in Dubai, United Arab Emirates, and supported by a team of over 45 highly engaged professionals, Knowledge E works closely with over 200 clients worldwide from various types of organisations and government entities within the research and education sector to support their continued innovation and development. This is achieved by providing leading expertise, information resources and software solutions. Since its inception, Knowledge E has prudently expanded its expertise, services and technology in line with its vision of developing 'a more knowledgeable world'.
Knowledge E's three core offerings are the 3D's; 'Discover', 'Develop' and 'Disseminate'. 'Discover' through the KnE Digital Library Solutions powered by Zendy (www.zendy.io) for research literature discovery, as well as tailored content packages; 'Develop' through the KnE Training Programmes, supporting capacity building and skills development within academia as well as the KnE Consulting Projects, serving universities on their mission to become 'world-class universities'; and 'Disseminate' through the KnE Publishing Services and the platform for Open Access publishing of regional journals and conference proceedings.
KnE Publishing's Open Access digital publishing platform provides a global gateway for research with readers in over 160 countries around the world, contributors from over 50 countries, and conference collections from over 20 countries. We are a trusted publishing partner and regional ambassador for both Crossref and ORCiD, and members of OASPA and The Association of Learned and Professional Society Publishers. All our publications are assigned DOIs and indexed on Google Scholar, in addition to being submitted to Web of Science, SCOPUS, EBSCO, PubMed and other leading indexers.
About the SDG Publishers Compact
The SDG Publishers Compact is a voluntary commitment that recognizes the responsibility of the publishing industry to create a sustainable future through action. Signatories aspire to develop sustainable practices and act as champions of the SDGs during the Decade of Action (2020-2030), publishing books and journals that will help inform, develop and inspire action in that direction. This compact follows other compacts for the Media sector and businesses in general.
https://www.un.org/sustainabledevelopment/sdg-publishers-compact/