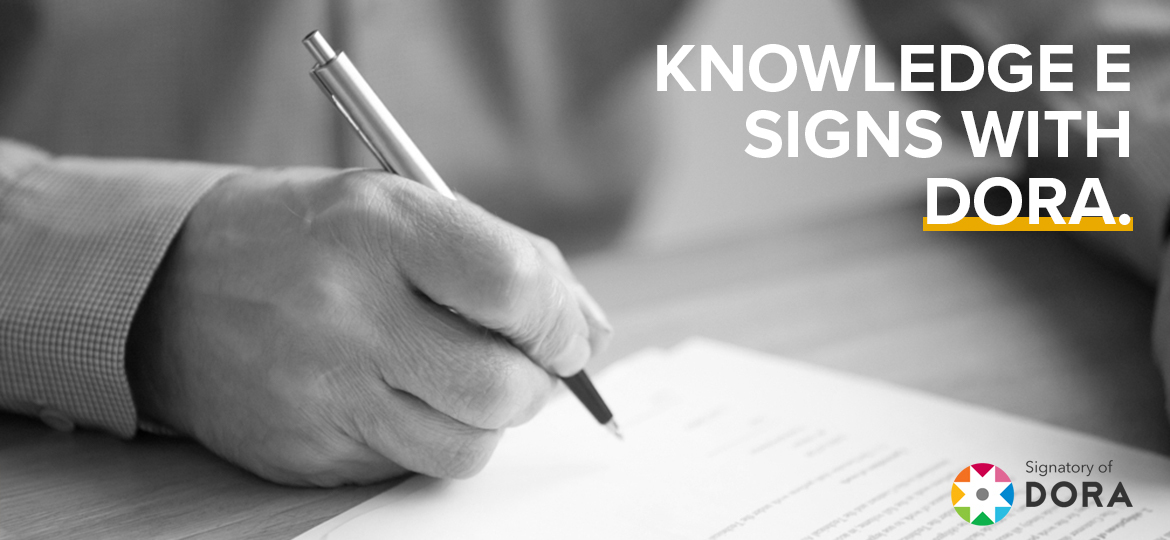 DUBAI, United Arab Emirates, 27th June 2021 — Knowledge E has recently become an affiliate of the San Francisco Declaration on Research Assessment (DORA). On June 16th, Knowledge E signed the declaration and joined more than 19,819 signatories in 146 countries. The San Francisco declaration seeks to improve the way scholarly research is assessed and evaluated, establishing a better way of calculating the scientific quality and impact of research.
The recommendations included in the declaration encourage a more transparent approach to assessing and investigating scientific content. The declaration also addresses concerns regarding the use of journal-based metrics for assessment since this type of measurement might depreciate the scientific quality of articles that might not have been published in high-impact journals. Instead, the DORA asks its signatories to adopt an article-based system of measurement to evaluate quality.
It is a proud moment for Knowledge E to be part of a growing movement of academics dedicated to improving the process in which scientific articles and research are rated and regarded. We are thrilled to be the fourth organisation in the UAE to sign the declaration and consider this development an excellent step towards our mission of promoting Open Access research and upholding the best international academic standards and practices within the region.
Established in 2012, Knowledge E was fast to become synonymous with collaboration, professionalism, and innovation. Head-quartered in Dubai, United Arab Emirates, and supported by a team of over 45 highly engaged professionals, Knowledge E works closely with over 200 clients world-wide from various types of organisations and government entities within the research and education sector to support their continued innovation and development. This is achieved by providing leading expertise, information resources and software solutions. Since its inception, Knowledge E has prudently expanded its presence, services, and technology in line with its vision of developing 'a more knowledgeable world'.
Knowledge E's three core offerings are the 3D's; 'Discover', 'Develop' and 'Disseminate'. 'Discover' through the KnE Digital Library Solutions to institutions and individuals powered by Zendy for research literature discovery, as well as tailored content packages; 'Develop' through the KnE Learning Programmes, supporting capacity building and skills development within academia as well as the KnE Consulting Projects, serving universities on their mission to become 'world-class universities'; and 'Disseminate' through the KnE Publishing Services and the platform for Open Access publishing of regional journals and conference proceedings.
KnE Publishing's Open Access digital publishing platform provides a global gateway for research with readers in over 160 countries around the world, contributors from over 50 countries, and conference collections from over 20 countries. We are a trusted publishing partner and regional ambassador for both Crossref and ORCiD, and members of OASPA and The Association of Learned and Professional Society Publishers. All our publications are assigned DOIs and indexed on Google Scholar, in addition to being submitted to Web of Science, SCOPUS, EBSCO, PubMed and other leading indexers.
DORA's vision is to advance practical and robust approaches to research assessment globally and across all scholarly disciplines. The declaration was developed in 2012 during the Annual Meeting of the American Society for Cell Biology in San Francisco. It has become a worldwide initiative covering all scholarly disciplines and all key stakeholders, including funders, publishers, professional societies, institutions, and researchers.