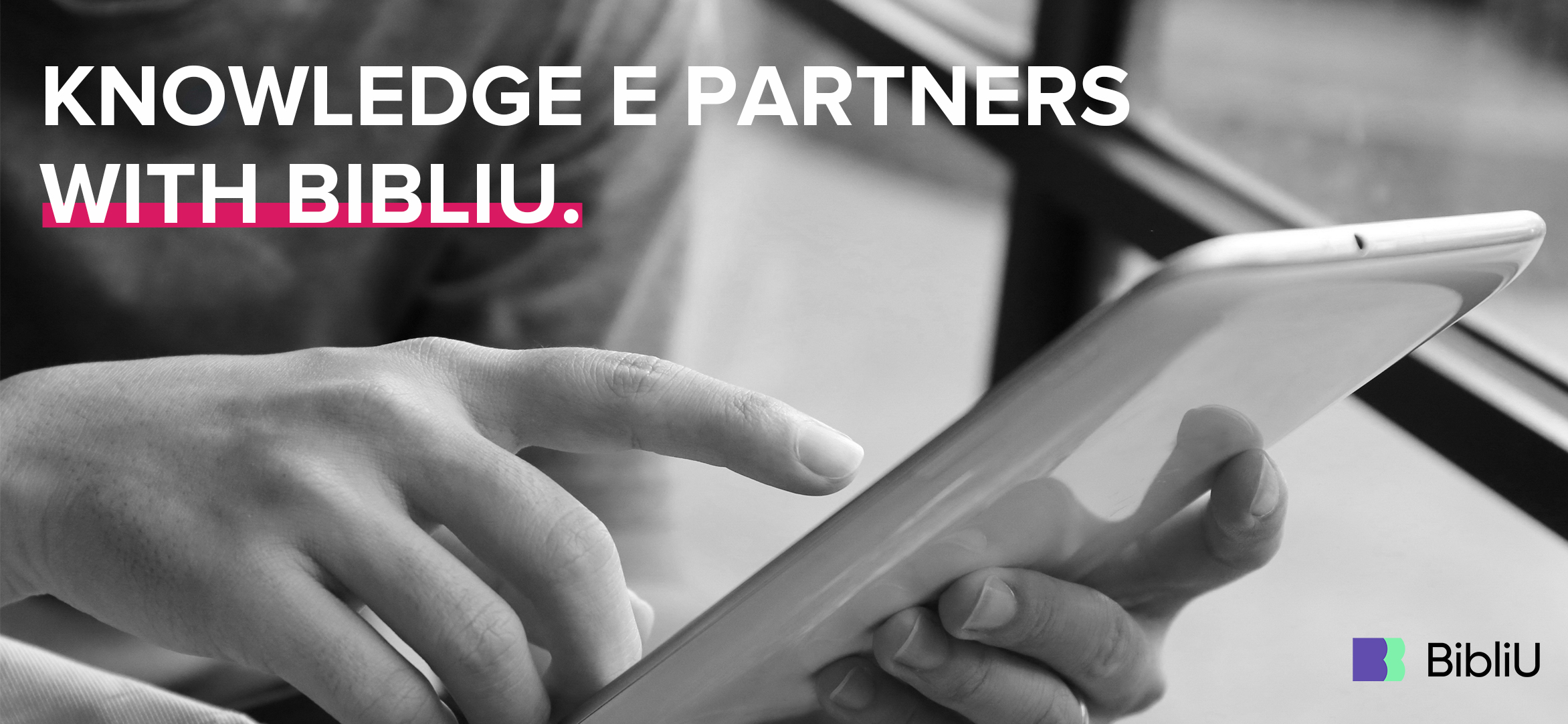 DUBAI, United Arab Emirates, 10th February 2021 – Knowledge E is pleased to announce a new partnership with BibliU, a pioneering learning content management platform that makes digital textbooks and learning resources more accessible and affordable to academics, institutions, librarians, and students.
The higher education landscape has shifted in response to the global pandemic, and, as a result, institutions must harness technology to deliver learning in new ways. BibliU's learning content management platform automates and streamlines the identification, selection, procurement, and provisioning of textbooks, monographs, and other digital learning content, enabling higher education institutions to reduce their costs, while providing greater access to learning resources.
With partnerships with over 2000 academic publishers, a catalogue of over 2 million titles, and deep integrations with university systems, BibliU makes textbooks and supplementary reading materials more accessible, a mission that goes hand in hand with Knowledge E's vision of developing a more knowledgeable world. As part of the partnership, Knowledge E aims to bring BibliU's digital textbook platform to the Middle East, supporting its growth and enhancing its presence in the region.
"We are so excited to be working with BibliU. The Middle East's higher education sector is undergoing a transformative change with the adoption of new technologies, and BibliU will be an invaluable tool here, offering access to high-quality tertiary reading content and empowering learners and universities. As we are dedicated to making education accessible to all, this partnership is a natural fit." said Ahmed Youssef, Head of Sales at Knowledge E.

"While most publishers and institutions do their utmost to provide textbooks and learning materials to all who need them, the underlying economics, as well as obstacles created by hybrid learning, mean that millions of students world-wide do not get access to the resources they need," said Dave Sherwood, BibliU Co-Founder and CEO. "We're proud to partner with Knowledge E, joining them on their mission of enabling continued innovation and development in higher ed in the Middle East."
To learn more on how we can work together, please contact us at sales@knowledgee.com.
About Knowledge E
Established in 2012, Knowledge E's name was fast to become synonymous with collaboration, professionalism and innovation. Head-quartered in Dubai, United Arab Emirates, and supported by a team of 40 highly engaged professionals, Knowledge E works closely with over 200 clients world-wide from various types of organisations and government entities within the research and education sector to support their continued innovation and development. This is achieved by providing leading expertise, information resources and software solutions. Since its inception, Knowledge E has prudently expanded its expertise, services and technology in line with its vision of developing 'a more knowledgeable world'.
Knowledge E's three core offerings are the 3D's; 'Discover', 'Develop' and 'Disseminate'. 'Discover' through the KnE Digital Library Solutions to institutions and individuals powered by Zendy for research literature discovery, as well as tailored content packages; 'Develop' through the KnE Training & Consulting, supporting capacity building and skills development within academia as well as the KnE Consulting Projects, serving universities on their mission to become 'world-class universities'; and 'Disseminate' through the KnE Publishing Services and the platform for Open Access publishing of regional journals and conference proceedings.
About BibliU
BibliU is a first-of-its kind digital learning platform that brings online course materials to life, making information accessible and searchable for students of all backgrounds. BibliU works with more than 40% of universities in the United Kingdom and with over 2,000 individual publishers to bring a complete catalogue of digital content to institutions. BibliU has raised $15m in venture capital to date and has employees in the U.S., U.K. and Australia.