DUBAI, United Arab Emirates, 9th January 2018 – Knowledge E has successfully delivered the professional development programme, Teaching Excellence in Medical Education in Egypt. This comprehensive course focused on delivering practical skills that fostered the application of theories related to teaching excellence in medical education. It was pilot program run in partnership with the Egyptian Knowledge Bank, the Military Medical Academy, and Knowledge E, and with the support of the Ministry of Higher Education.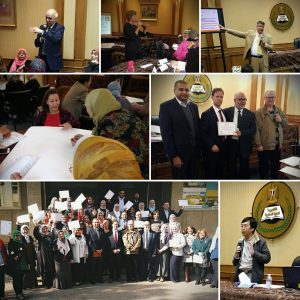 Moving from Pedagogy to Andragogy (Student-Centered Classrooms): Prof. Michelle McLean, Bond University, Australia
Clinical Teaching at the Bedside: Prof. Rodney Petersen, Royal Australian Army Medical Corps, Australia
Assessment Design: Prof. Michael Wan, University of Notre Dame, Australia
Creating an Engaging Classroom: Prof. Carrie Elzie, Eastern Virginia Medical School, USA
Mentorship and Student Development: Prof. Carrie Elzie, Eastern Virginia Medical School, USA
Promoting Active Learning: Dr. Carole Suddards, Canada
Curriculum Development: Prof. Davinder Sandhu, Royal College of Surgeons in Ireland
Small Group Teaching: Prof. Michelle McLean, Bond University, Australia
These outstanding trainers are leaders in their respective fields, with extensive professional experience, esteemed academic credentials, several awards for outstanding teaching practices, and numerous publications on relevant topics and travelled to Egypt from the USA, Australia, UK, and Canada to share their valuable insights with the course participants.
The participants of the programme were medical educators and represented different regions and multiple medical specialties from medical faculties across Egypt. Philip J. Purnell, Director of Knowledge E's Services Division said "We are delighted to have made a tangible contribution to Egypt's learning society, feedback from the participants, trainers and all stakeholders was overwhelmingly positive and we hope to provide further training for medical educators to build on this success."
About Egyptian Knowledge Bank
The Egyptian Knowledge Bank is an online library archive and resource that provides access to learning resources and tools for educators, researchers, students, and the general public of Egypt.
About Knowledge E
Knowledge E was established in 2012 and has quickly become synonymous with collaboration, innovation and progression. Based in Dubai, UAE, at the centre of a region of vision and ambition, Knowledge E works passionately with all types of organisations and government entities within research and education to support their continued innovation and development by providing them with leading expertise, information resources and software solutions. This does for example include the KnE eLibrary Solution for research literature discovery and the KnE Publishing Platform for open access journal and conference proceedings publishing and indexing, along with associated research and publishing services for capacity building within academia.