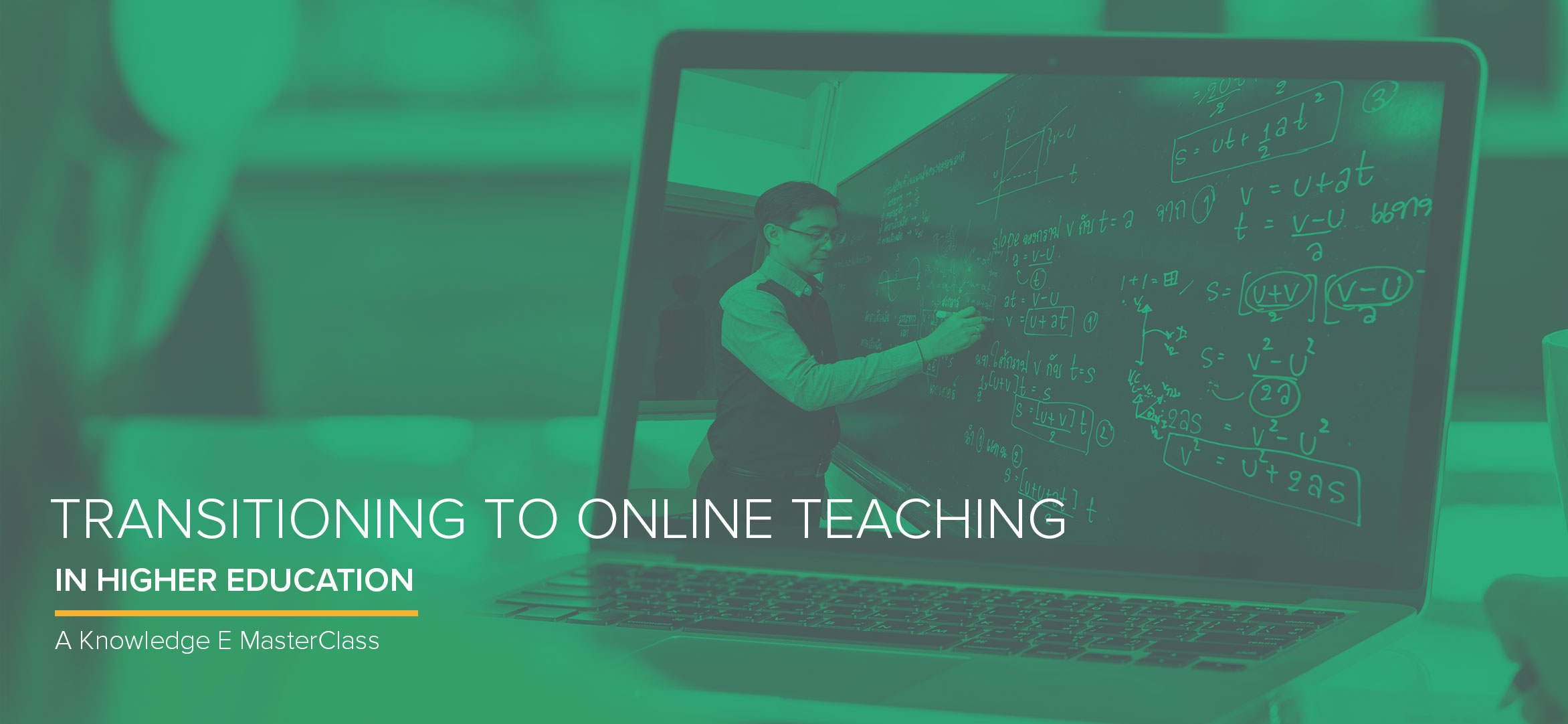 DUBAI, United Arab Emirates, 31st May 2020 – The current crisis is forcing universities to transition to 100% online teaching. Many professors, instructors, and students are finding this a challenging adjustment. While articles, websites, and videos about teaching online can be found, few educators have the time to sort through these resources which are frequently of questionable quality or usefulness. They need custom guidance that enables them to immediately and effectively adapt courses they are already trying to teach online with minimal or no help.
Responding to this desperate need, Knowledge E, a Dubai-based international company with expertise building higher education capacity in countries around the world, has launched a new MasterClass on Transitioning to Online Teaching.
9 hours of
interactive
live sessions
The Transitioning to Online Teaching MasterClass includes a custom assessment of university needs, 9 hours of interactive live sessions, optional extra coaching and "train the trainer" sessions. It is designed to be delivered online and is available to universities around the globe. The programme is based on personalised active learning activities based around the courses the participants need to adapt. In this way, the training and mentoring will not add to workloads and will produce immediate and practical results for professors and students.
The
Transitioning to Online Teaching

MasterClass will enable participants to:
Translate face-to-face content for effective online delivery
Engage successfully with students through online specific methods and activities
Measure knowledge and skill competencies with innovative assessment strategies
Communicate efficiently through new techniques
Reduce cheating through assignment and exam procedures
Encourage self-learning and teamwork and peer-review via protocols
Improve assessment mechanisms and student performance

The MasterClass is led by Knowledge E's eLearning expert, Caryn Anderson, who has extensive experience teaching courses all over the world and over 13 years of teaching online. In March, she delivered three short webinars on Transitioning to Online Teaching to 720 participants from more than 45 countries, who called the webinar "informative", "useful", "clear", "helpful", "effective", and "excellent".
"The whole webinar was an eye-opener about the possible opportunities. … The tips will go a long way in helping me to mount my first comprehensive class." – Kenya
"The ideas for online teaching were excellent and can be very useful in the emergency conditions [COVID-19]." – United Arab Emirates
"The session helped and gave good ideas as to how to engage students when teaching online. Online teaching does seem daunting, so the workshop was very helpful to make you feel at ease." – Oman
The incredible response to these webinars, the overwhelmingly positive participant feedback, and their urgent requests for more and deeper training drove Knowledge E to develop this MasterClass.
"Great ideas, need more…"
"Loved the discussion about rethinking the assessment methodology. Would like more…"
"[I would like] to have more sessions that cater to specific requirements and context such as 'How to deliver online sessions that follow a Problem-based learning approach.'"
"This was a great intro, but I need more. Waiting for the masterclasses to learn more."
Knowledge E's Training and Strategy expert Caryn Anderson commented, "We knew there would be a need for help, but the enthusiasm the participants showed for the value of even the brief online teaching tips and tricks I provided was amazing! I am excited to work with these dedicated professors more closely and deeply, through these MasterClasses, and help them turn this global crisis into a sustainable and productive transformation for them, as teachers, as well as for their students and their countries."

Samantha Miles, Head of Training and Consulting, said, "Most exciting is that the Transitioning to Online Teaching MasterClass is more than just meeting a need for so many universities, especially in developing countries. The changes in education practices required for high quality online teaching also represent an opportunity to leapfrog into a new paradigm of teaching – one which produces graduates better prepared to participate in the global knowledge economy."

Interested institutions are encouraged to schedule a free Transitioning to Online Teaching consultation now: https://knowledgee.com/transitioning-to-online-teaching-in-higher-education/schedule-consultation/ or you can email us at: training@knowledgee.com.
About Knowledge E
Established in 2012, Knowledge E's name was fast to become synonymous with collaboration, professionalism and innovation. Head-quartered in Dubai, United Arab Emirates, and supported by a team of over 35 highly engaged professionals, Knowledge E works closely with over 100 clients world-wide from various types of organisations and government entities within the research and education sector to support their continued innovation and development. This is achieved by providing leading expertise, information resources and software solutions. Since its inception, Knowledge E has prudently expanded its expertise, services and technology in line with its vision of developing 'a more knowledgeable world'.
Knowledge E's three core offerings are the 3D's; 'Discover', 'Develop' and 'Disseminate'. 'Discover' through the KnE Digital Library Solutions powered by Zendy (www.zendy.io) for research literature discovery, as well as tailored content packages; 'Develop' through the KnE Learning Programmes, supporting capacity building and skills development within academia as well as the KnE Consulting Projects, serving universities on their mission to become 'world-class universities'; and 'Disseminate' through the KnE Publishing Services and the platform for Open Access publishing of regional journals and conference proceedings.
Join us in working towards a more knowledgeable world!