DUBAI, United Arab Emirates, 29th June 2017 — Knowledge E added to SHERPA/RoMEO database.
Knowledge E is pleased to announce that all our copyright policies are now featured in the SHERPA/RoMEO database. All KnE conference proceedings and journals articles are covered under policies classified as 'RoMEO Green Publisher' status as displayed on the SHERPA/RoMEO database effective immediately.
The global research community, including those interested in open access publishing and publishing ethics evaluation can now easily find Knowledge E's copyright policies. For more details, please visit the Knowledge E page at https://goo.gl/YWEUef
"Knowledge E's addition to the SHERPA/RoMEO database demonstrates our commitment to the highest ethical standards of open access publishing in line with global industry trends. As a supporter of the open science movement, it is important that our authors can archive their pre-print, post-print and post-publication PDF and our readers can download, save and share all our published content with their peers" says Knowledge E Director of Research & Publishing Services, Philip J. Purnell.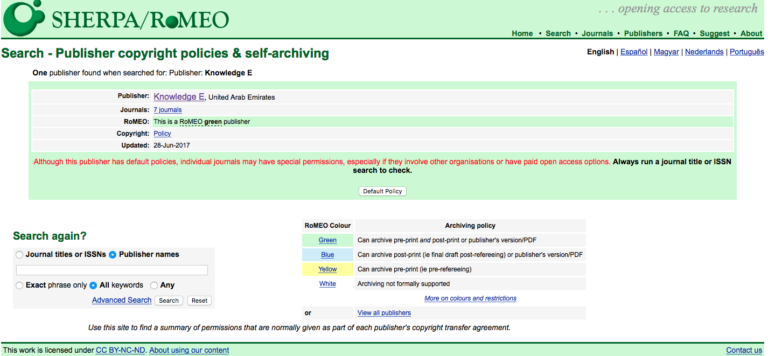 About Knowledge E:
Knowledge E was established in 2012 and has quickly become synonymous with collaboration, innovation and progression. Based in Dubai, UAE, at the centre of a region of vision and ambition, Knowledge E works passionately with all types of organisations and government entities within research and education to support their continued innovation and development by providing them with leading expertise, information resources and software solutions. This includes the KnE Digital Library for research literature discovery and the KnE Publishing Platform for open access journal and conference proceedings publishing and indexing, along with associated research and publishing services for capacity building within academia.
About SHERPA/RoMEO:
SHERPA/RoMEO is an online resource that aggregates and analyses publisher open access policies from around the world and provides summaries of self-archiving permissions and conditions of rights given to authors on a journal-by-journal basis. SHERPA/RoMEO is a part of Jisc (formerly the Joint Information Systems Committee) is a United Kingdom not-for-profit company whose role is to support post-16 and higher education, and research, by providing relevant and useful advice, digital resources and network and technology services, while researching and developing new technologies and ways of working.