DUBAI, United Arab Emirates, 30th October 2018 – Knowledge E and Gulf Medical University (GMU) today signed a Memorandum of Understanding that covers a range of activities aimed at accelerating GMU's path to combining excellence in teaching with internationally recognized research and making a real impact on the community – the pillars of a world-class university.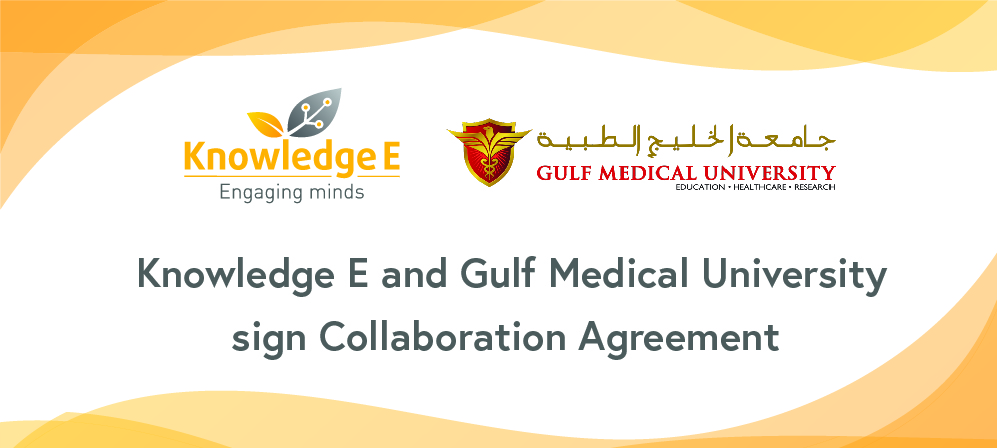 Kamran R. Kardan, Knowledge E's CEO said "We are delighted to deepen our cooperation with Gulf medical University in areas such as consulting and capacity building and look forward to helping maximise the impact of GMU's research output."
Prof. Hossam Hamdy, Gulf Medical University Chancellor added "As Gulf Medical University is the biggest private Medical University in the Gulf region, we are delighted to foster our continued relationship with Knowledge E. As GMU is a highly collaborative organization, we enjoy opportunities to work with organizations that share our standards for excellence and community engagement. We look forward to engaging in future endeavors globally that support our vision of leadership for health professions education, research, healthcare and social accountability for sustainable community development. Our partnership with Knowledge E is contributing towards expanding our global footprints."
About Gulf Medical University
Gulf Medical University (GMU) established in 1998 is a leading medical university in the Gulf region. GMU offers Medical and Health Professional Education in the field of Medicine, Dentistry, Pharmacy, Physiotherapy, Nursing, Medical Laboratory Sciences, Anesthesia & Surgical Technology, and Medical Imaging Sciences. GMU offers postgraduate programs in Toxicology, Public Health, Clinical Pathology. In addition, the university also offers Short Term Certificate Courses for Health workforce development and career enhancement. GMU differentiates itself having its own network of hospitals, clinics, and institutes.
The Thumbay Institute for precision medicine and translational research, Thumbay institute for population health and Thumbay Institute of health workforce development are the hubs for research, post-graduate studies, and continuous professional development. The university programs are accredited by Ministry of Education, UAE. All programs are recognized by World Health Organization (WHO) and listed in the WHO Directory of Medical Schools and IMED under the auspices of FAIMER and the list of program offerings in universities of the Eastern Mediterranean Region (EMRO) of the WHO. It has graduated about 1300 graduates and another 900 are graduated under Continuing Medical Health Education program.
About Knowledge E
Established in 2012, Knowledge E's name was fast to become synonymous with collaboration, professionalism and innovation. Head-quartered in Dubai, United Arab Emirates, and supported by a team of 30 highly engaged professionals, Knowledge E works closely with all types of organisations and government entities within the research and education sector to support their continued innovation and development by providing them with leading expertise, information resources and software solutions. Since its inception, Knowledge E has prudently expanded its expertise, services and technology in line with its vision of developing 'a more knowledgeable world'.
Knowledge E's three core offerings are the 3D's; 'Discover', 'Develop' and 'Disseminate'. 'Discover' through the KnE Digital Library Solutions powered by Zendy for research literature discovery, as well as tailored content packages, 'Develop' through the KnE Learning Services, supporting capacity building and skills development within academia and 'Disseminate' through the KnE Publishing Services and the platform for Open Access publishing and indexing of regional journals and conference proceedings. In addition, Knowledge E offers also consulting services aiming to perform deep analysis and quantitative assessment of academic impact and benchmarking against international peers while supporting institutions with improved strategies in line with their ambitious goals.