DUBAI, United Arab Emirates, 27th May 2018 – Knowledge E is delighted to announce membership of the Open Access Scholarly Publishers Association (OASPA https://oaspa.org/). OASPA represents Open Access publishers by educating the academic community and general public on the benefits of Open Access, promoting Open Access business models and promoting innovation to scientific communications.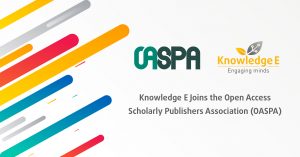 Knowledge E publishes 4 open access journals and has also published more than 1,500 open access conference papers organized into 6 conference proceedings series and of these, 450 KnE published papers are visible in Clarivate's ISI Web of Science.
"From the outset, Knowledge E has embraced open access publishing and licencing policies and we are naturally excited about our membership and looking forward to working with OASPA to enhance the Openness movement and promoting Open Access publishing" said Mohamad Mostafa – Knowledge E Publishing Editor. Knowledge E adheres to the Principles of Transparency and Best Practice in Scholarly Publishing announced by OASPA, COPE, DOAJ, and WAME earlier this year.
About OASPA
The Open Access Scholarly Publishers Association (OASPA) is a non-profit trade association representing the interests of open access journal publishers globally in all scientific, technical and scholarly disciplines. Along with promoting open access publishers, OASPA sets best practices and provides a forum for the exchange of information on and experiences of open access.
About Knowledge E
Knowledge E was established in 2012 and has quickly become synonymous with collaboration, innovation and progression. Based in Dubai, UAE, at the centre of a region of vision and ambition, Knowledge E works passionately with all types of organisations and government entities within research and education to support their continued innovation and development by providing them with leading expertise, information resources and software solutions. This does for example include the KnE eLibrary Solution for research literature discovery and the KnE Publishing Platform for open access journal and conference proceedings publishing and indexing, along with associated research and publishing services for capacity building within academia.