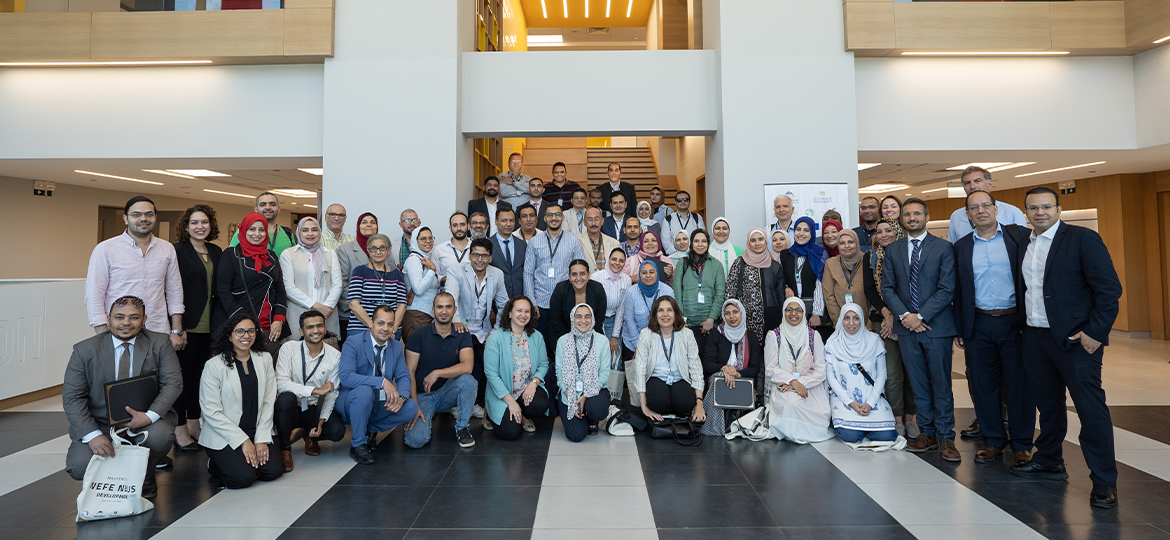 Over 60 researchers representing 21 Egyptian institutions participated in the 'Masterclass in WEFE Nexus Development: Water-Energy-Food Ecosystems in the South Mediterranean', from the 4th to the 6th of July 2023 in Cairo. The Masterclass explored the connections of the WEFE Nexus and its profound implications for sustainable development and was a joint initiative of the Egyptian Knowledge Bank (EKB), the Ministry of Higher Education and Scientific Research (MOHESR), Knowledge E, the PRIMA Foundation, SustainFood, the Egyptian Center for Innovation & Technology Development (ECIDT).
The WEFE Nexus is a conceptual framework that emphasizes the interconnectedness of water, energy, food, and ecosystems and encourages integrated and sustainable management of these resources. The concept recognises that these sectors are closely linked and that actions in one sector can have significant impacts on the others. Traditionally, these sectors have been managed separately, but increasing pressures on resources, such as population growth, climate change, and environmental degradation have highlighted the need for a more coordinated and sustainable approach. WEFE Nexus acknowledges the need and offers solutions for an integrated and holistic approach to resource management.
By promoting the WEFE Nexus approach through this Masterclass, Egypt seeks to enhance resource efficiency and promote sustainability; a mission aligned with the Sustainable Development Goals, and in particular the SDG 6 (Clean Water and Sanitation), SDG 13 (Climate Action), SDG 14 (Life Below Water), and SDG 15 (Life on Land).
This interactive professional development training allowed selected participants to become familiar with WEFE Nexus approaches, explore different tools, and discover on-site implementation. Being equipped with this new knowledge, participants will now be able to apply the WEFE Nexus framework in their research with the objective to tackle resource and societal challenges and create real impact for Egypt.
This Masterclass benefited from the inputs and contributions of and six project management specialists and 13 international subject matter experts including Prof. Mike Jacobson (Penn State), Dr Bassel Daher (Texas A&M University), Prof. Ali Rhouma (PRIMA Foundation), Dr Mohamed Wageih (PRIMA Foundation), Prof. Ali Karnib (Lebanese University ), Dr Jauad El Kharraz (Regional Center for Renewable Energy & Energy Efficiency (RCREEE)), Eng. Ghada Amin (German Agency for International Cooperation (GIZ)), Prof. Fernando Nardi (NEXUS-NESS), Prof. Mohamed Bahnassy (Alexandria University), Mr Mostafa Hassanen (Zon Gardens, project AWESOME), Mr Muhammad Khaled (American University Cairo, CARES), and Mr Fahad Kimera (American University Cairo, CARES).
The three-day masterclass covered the following topics:
Day One – Understanding the WEFE Nexus & Its Challenges
✔ Understanding the WEF Nexus and the Challenges of Nexus Analysis
✔ Lessons Learned from Global WEF Nexus Case Studies
✔ Group Work Orientation and first steps based on Selected Nexus Cases from Egypt and the MENA Region
Day 2 – Understanding WEFE Nexus Modelling & Governance
✔ Tools: Assessing the Quantitative Interconnections of WEF Sectors at the Country Scale Using the Q-Nexus Web tool & Quantitative and Qualitative Analyses of the WEF Nexus – WEF Nexus Tool 2.0
✔ WEFE Nexus Governance: Review of Models and Stakeholder Engagement
✔ Ongoing Activities in Egypt's NEXUS-NESS NEL
✔ The Gender and Equity Dimension in the WEFE Nexus
✔ Operational Modeling in the Mediterranean Region: Case Studies from Egypt
✔ Group Work
Day 3 – Operationalising of WEFE Nexus Solutions
✔ Group Presentations and Feedback
✔ Project AWESOME Site Visit