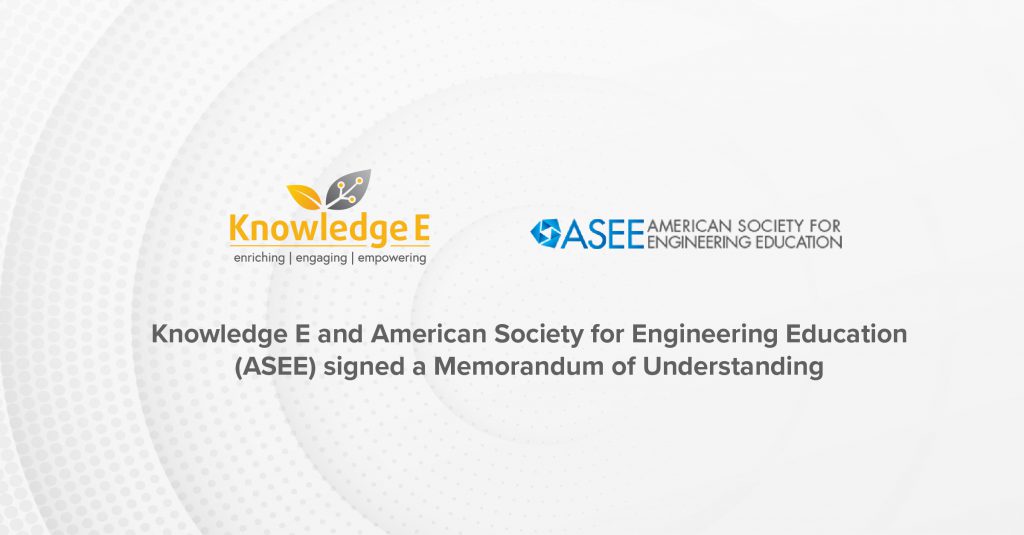 DUBAI, United Arab Emirates, 31st March 2019 – We are pleased to announce that, with mutual interest in collaboration, the American Society for Engineering Education (ASEE) and Knowledge E have signed a Memorandum of Understanding to promote joint educational programmes. The purpose of the MOU was to define joint initiatives that will support the aims and objectives of each organisation.
Kamran R. Kardan, Knowledge E's CEO said "We are delighted to deepen our relationship with the ASEE through the signing of this MOU and look forward to achieving valuable outcomes from this collaboration. It is a pleasure to be associated with such an esteemed organisation."
Dr. Norman Fortenberry, ASEE's Executive Director commented "Knowledge E has an unparalleled reputation in the field, and we at ASEE value their collaboration in translating knowledge to improved practice on a global scale. The signing of this MOU represents the first step in what we hope will be a long and productive relationship."
About ASEE
Founded in 1893, the American Society for Engineering Education is a nonprofit organization of individuals and institutions committed to furthering education in engineering and engineering technology. It accomplishes this mission by:
• promoting excellence in instruction, research, public service, and practice;
• exercising worldwide leadership;
• fostering the technological education of society; and
• providing quality products and services to members
In pursuit of academic excellence, ASEE develops policies and programs that enhance professional opportunities for engineering faculty members and promotes activities that support increased student enrollments in engineering and engineering technology colleges and universities. Strong communication and collaboration with national and international organizations further advances ASEE's mission.
ASEE also fulfills its mission by providing a valuable communication link among corporations, government agencies, and educational institutions. ASEE's 12,000+ members include deans, department heads, faculty members, students, and government and industry representatives who hail from all disciplines of engineering and engineering technology. ASEE's organizational membership is composed of 400 engineering and engineering technology colleges and affiliates, more than 50 corporations, and numerous government agencies and professional associations. ASEE directs many of its efforts at providing for open and ongoing dialogues among these groups.
To learn more, please visit https://www.asee.org
About Knowledge E
Established in 2012, Knowledge E's name was fast to become synonymous with collaboration, professionalism and innovation. Head-quartered in Dubai, United Arab Emirates, and supported by a team of 30 highly engaged professionals, Knowledge E works closely with over 100 clients world-wide from various types of organisations and government entities within the research and education sector to support their continued innovation and development. This is achieved by providing leading expertise, information resources and software solutions. Since its inception, Knowledge E has prudently expanded its expertise, services and technology in line with its vision of developing 'a more knowledgeable world'.
Knowledge E's three core offerings are the 3D's; 'Discover', 'Develop' and 'Disseminate'. 'Discover' through the KnE Digital Library Solutions powered by Zendy for research literature discovery, as well as tailored content packages; 'Develop' through the KnE Learning Programmes, supporting capacity building and skills development within academia as well as the KnE Consulting Projects, serving universities on their mission to become 'world-class universities'; and 'Disseminate' through the KnE Publishing Services and the platform for Open Access publishing of regional journals and conference proceedings.