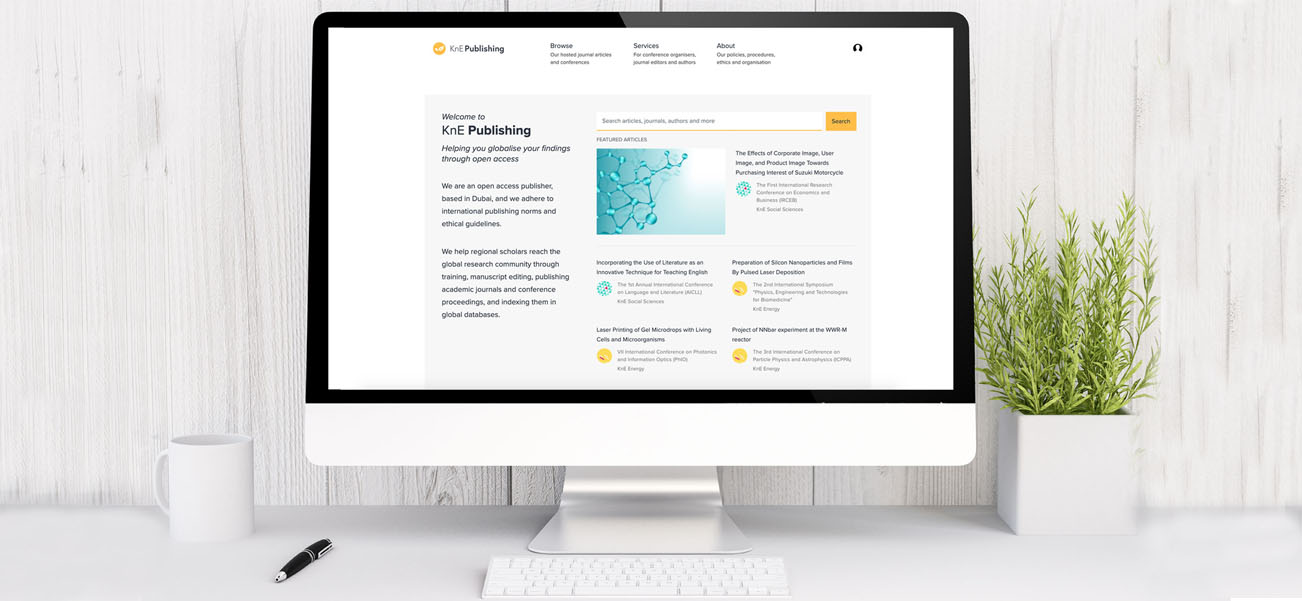 DUBAI, United Arab Emirates, 11th July 2019 – Knowledge E, a global online Open Access publisher, announced the launch of its new publishing platform. The new and completely redesigned website offers visitors:
Faster search
Simplified browsing
Easier navigation
Articles have been placed front and centre making them easy to find right from the home page. Thus if you are interested in life sciences, you can easily discover new life science related papers at a glance. Each article has a simple recognisable icon telling you which journal or conference series it belongs to.
The whole platform now uses a responsive design enabling intuitive browsing on every device; mobile phone, tablet, laptop or desktop computer. The KnE Publishing Platform will now respond to your browsing environment, automatically resizing, hiding, shrinking and enlarging the web pages so you can continue finding and reading the articles with ease.
The newly redesigned website offers quick access to all other Knowledge E services with better navigation, as well as easy and accessible browsing of its catalogue of published materials.
"We are excited about our new website and the improvements it provides for our visitors. We believe it will offer better guidance for journal editors and conference organisers aiming to publish with Knowledge E, as well as a better experience for visitors looking to browse high quality, peer-reviewed articles in their field.", Philip J. Purnell, Director – Research & Publishing Services at Knowledge E.
The new website is officially available from 9th July 2019: https://knepublishing.com