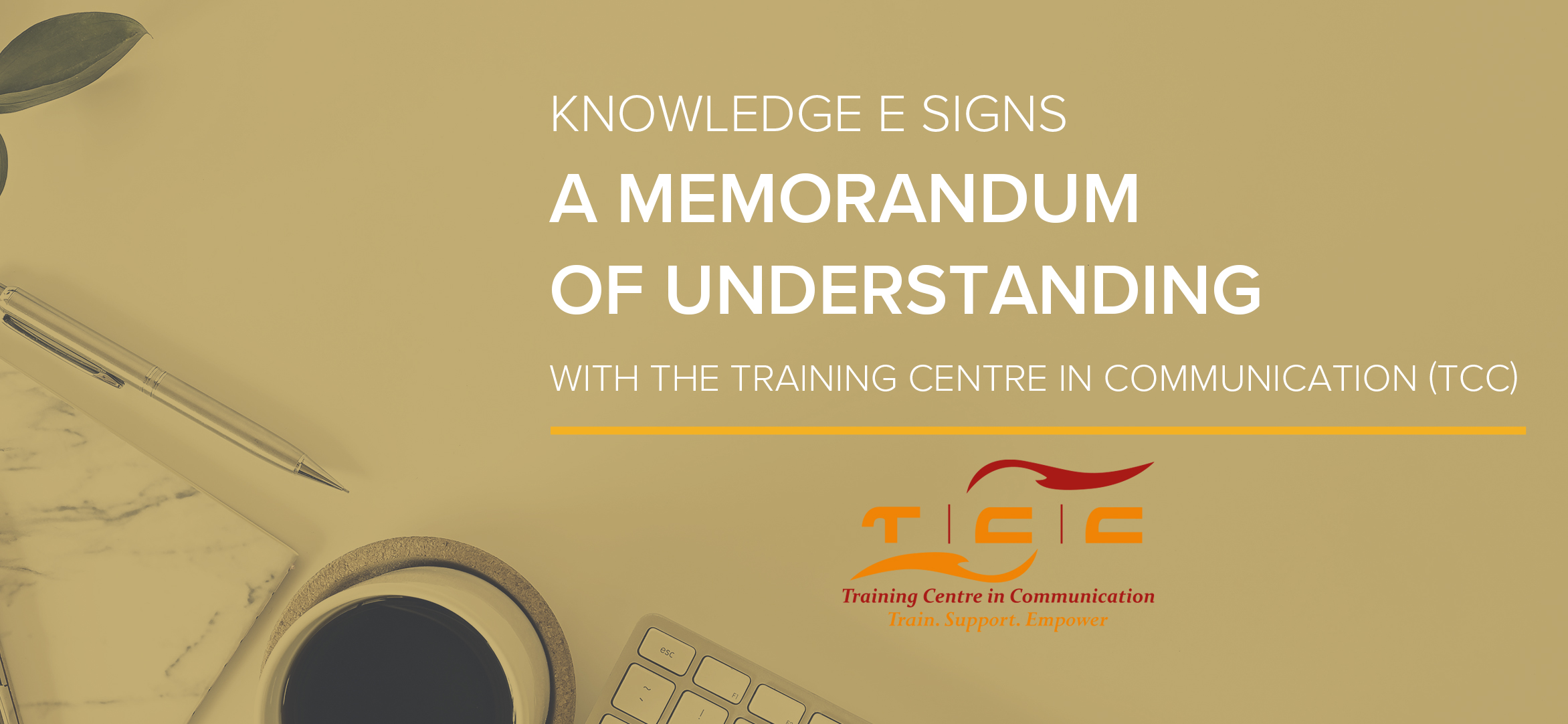 DUBAI, United Arab Emirates, 30th of March 2020 – We are pleased to announce that, with a mutual interest in collaboration, the Training Centre in  Communication and Knowledge E have signed a Memorandum of Understanding to promote joint educational and research initiatives that support academia, with the objective to enhance capacities, competencies and competitiveness in Higher Education.
"We are pleased to build our alliance with the Training Centre in Communication. We are confident that signing this MoU will allow us to pursue new and creative projects that will support our goal of moving towards a more knowledgeable world. We look forward to start exploring how academia in Africa can benefit from both our experiences, especially in the current context, where transitioning to online teaching is more urgent than ever". – Founder and CEO, Knowledge E, Kamran R. Kardan.
"Knowledge E and Training Centre in Communication have similar objectives in supporting the higher education sector in improving its research output and visibility. Our partnership is in line with Sustainable Development Goal 4 (SDG 4 – as defined by the United Nations), which provides good quality education for all and I look forward to a great collaboration". – Executive Director, Training Centre in Communication, Joy Owango.
About TCC Africa
The Training Centre in Communication (TCC Africa), is the first African-based training centre to teach effective communication skills to scientists. TCC Africa is a trust, established as a non-profit entity in 2006 and is registered in Kenya. TCCs' mission is to contribute to the increase in profile, locally, and internationally, of African science, and its impact on the life of Africans, by improving skills in technical communication in all forms, at academia and other relevant forums, in Africa. TCC's objective is to "Train. Support. Empower" researchers through capacity in improving their research output and visibility through training in scholarly  and  science communication.
TCC Africa held its first course in October 2006 at Makerere University, Kampala, Uganda and in late 2007, signed a Memorandum of Understanding with the University of Nairobi, School of Biological Sciences, and has its headquarters on the Chiromo Campus, Nairobi, Kenya.  Since TCC Africa started its activity, over three thousand seven hundred and seventy seven (3777) participants from over thirty one (31) different countries and over eighty (80) institutions have taken part in the long and short courses offered.
About Knowledge E
Established in 2012, Knowledge E's name was fast to become synonymous with collaboration, professionalism and innovation. Head-quartered in Dubai, United Arab Emirates, and supported by a team of 30 highly engaged professionals, Knowledge E works closely with over 100 clients world-wide from various types of organisations and government entities within the research and education sector to support their continued innovation and development. This is achieved by providing leading expertise, information resources and software solutions. Since its inception, Knowledge E has prudently expanded its expertise, services and technology in line with its vision of developing 'a more knowledgeable world'.
Knowledge E's three core offerings are the 3D's; 'Discover', 'Develop' and 'Disseminate'. 'Discover' through the KnE Digital Library Solutions to institutions and individuals powered by Zendy for research literature discovery, as well as tailored content packages; 'Develop' through the KnE Learning Programmes, supporting capacity building and skills development within academia as well as the KnE Consulting Projects, serving universities on their mission to become 'world-class universities'; and 'Disseminate' through the KnE Publishing Services and the platform for Open Access publishing of regional journals and conference proceedings.