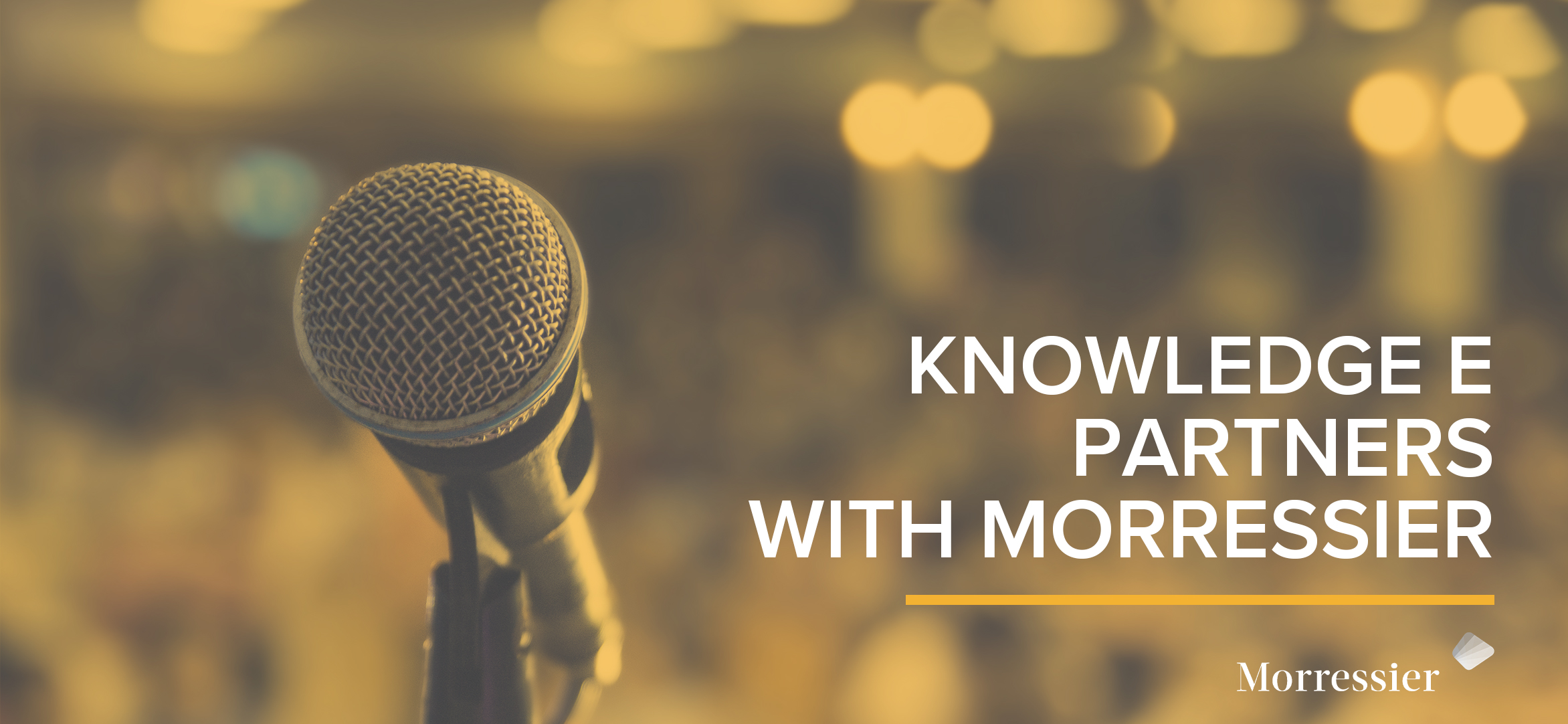 DUBAI, United Arab Emirates, 19th January 2021 – We are pleased to announce a new partnership between KnE Publishing and Morressier, a virtual conference solutions provider.
Our KnE Publishing division offers a wide array of services for academic conferences to ensure the quality, credibility, and discoverability of the research produced. Morressier provides hosting services and a range of other solutions to help conference organisers foster engagement and enhance attendance. Through this new partnership, and with a mutual interest in collaboration, our KnE Publishing division and Morrisier look to further support academic organisations in optimising the promotion and publication of their conferences.
Emily Choynowski, Head of Publishing at Knowledge E, said: "We are delighted to combine forces with Morressier to increase the impact of academic conferences. During these challenging times, it is more important than ever to facilitate scholarly discussion".
Lauren Kane, Chief Strategy Officer at Morressier, said: "We're looking forward to collaborating with Knowledge E to expand Morressier's presence in key markets in the Middle East and beyond. Together, we will support dynamic virtual meetings and elevate the exchange around vital conference content".
To learn more about our conference services, click here.
About Knowledge E
Established in 2012, Knowledge E's name was fast to become synonymous with collaboration, professionalism and innovation. Head-quartered in Dubai, United Arab Emirates, and supported by a team of 40 highly engaged professionals, Knowledge E works closely with over 200 clients world-wide from various types of organisations and government entities within the research and education sector to support their continued innovation and development. This is achieved by providing leading expertise, information resources and software solutions. Since its inception, Knowledge E has prudently expanded its expertise, services and technology in line with its vision of developing 'a more knowledgeable world'.
Knowledge E's three core offerings are the 3D's; 'Discover', 'Develop' and 'Disseminate'. 'Discover' through the KnE Digital Library Solutions to institutions and individuals powered by Zendy for research literature discovery, as well as tailored content packages; 'Develop' through the KnE Training & Consulting, supporting capacity building and skills development within academia as well as the KnE Consulting Projects, serving universities on their mission to become 'world-class universities'; and 'Disseminate' through the KnE Publishing Services and the platform for Open Access publishing of regional journals and conference proceedings.
About Morressier
Morressier is the world's leading platform for early-stage research. Providing comprehensive virtual and hybrid conference solutions, powerful data and analytics, and new revenue opportunities, more than 200 leading organisations trust Morressier with their conference content. Morressier's powerful suite of tools and custom integrations help partners to host, share, and fully integrate this traditionally hidden research, including abstracts, posters, presentations, and conference proceedings. At the same time, by increasing dissemination and providing valuable aggregate insights, Morressier facilitates scholarly discourse and accelerates scientific breakthroughs.
About KnE Publishing
KnE Publishing's Open Access digital publishing platform provides a global gateway for research with readers in over 160 countries around the world, contributors from over 50 countries, and conference collections from over 20 countries. We are a trusted publishing partner and regional ambassador for both Crossref and ORCiD, and members of OASPA and The Association of Learned and Professional Society Publishers. All our publications are assigned DOIs and indexed on Google Scholar, in addition to being submitted to Web of Science, SCOPUS, EBSCO, PubMed and other leading indexers.