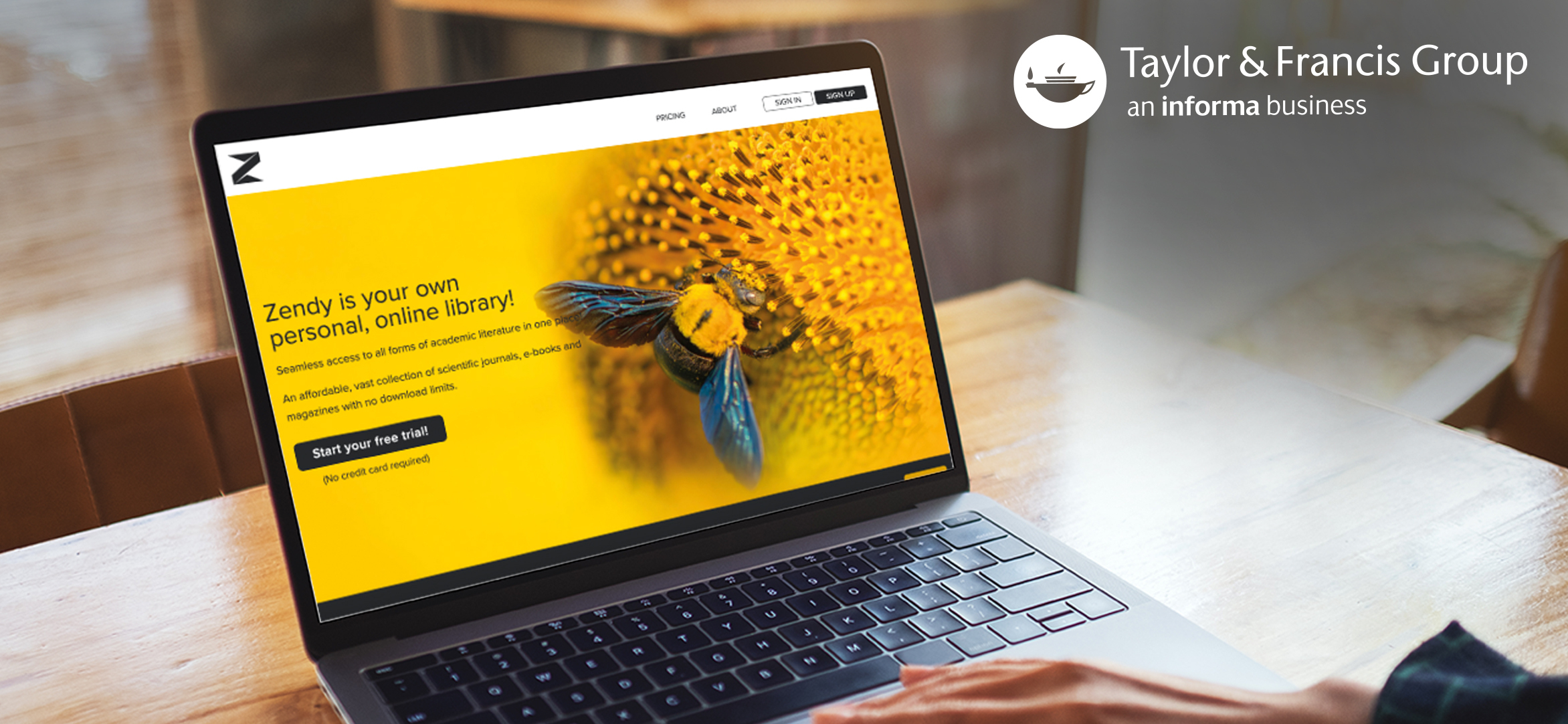 DUBAI, United Arab Emirates, 2nd November, 2020 
— Readers in 39 countries across North Africa and the Middle East will have a new affordable option for accessing the latest research, following a new partnership between leading academic publisher Taylor & Francis Group and the information services experts at Knowledge E.Almost 2,500 Taylor & Francis journals, representing every research area from Anthropology to Zoology, are now available through Knowledge E's Zendy platform. Developed for regions where research publications can be less affordable, especially for individuals not affiliated with an academic institution, Zendy gives subscribers access to a world of knowledge from the brightest minds.Zendy is an online platform that enables individual subscribers to navigate based on subject, material type, date, and more. Users can discover content from their favorite publishers, now including Taylor & Francis, save search results, and enjoy unlimited article downloads.Kamran R. Kardan, Founder and CEO of Knowledge E which developed Zendy, says this collaboration with Taylor & Francis is an "important step" towards Zendy's goal of further increasing the visibility and dissemination of research.He added: "
We're very excited to be extending our relationship with Taylor & Francis. The addition of their collection to our expanding portfolio is fantastic and it is sure to bring incredible value to Zendy's community.
"Enabling access to research in the Global South is a key driver for Taylor & Francis' partnership with Zendy, and this initiative sits alongside others which support affordable and free access to academic research. Zendy, which puts access choice in the hands of individual readers, complements these activities and offers a new opportunity to connect practitioners and the public with cutting-edge knowledge.Christoph Chesher, Chief Commercial Officer, Taylor & Francis Group, states: "
At Taylor & Francis we're committed to reaching the widest readership possible with the research we publish. Ensuring there are affordable choices for readers in every part of the world is vital for achieving this goal, which is why we're so excited by the potential of this partnership with Zendy.
"
About Zendy 
Zendy is an online platform created to provide individuals with access to scholarly research and literature. Zendy originates from the notion of building a more knowledgeable world, as there has never been a time where easy, affordable access to content has been more needed. Access to scientific publications is particularly troublesome in developing countries, where many universities cannot afford the subscription databases required for advancing research and studies. Zendy is working to remove barriers from scholarly discovery to make academic literature affordable and accessible to everyone, all academic and non-academic professionals, students, and knowledge enthusiasts.Zendy is developed by Knowledge E in a growing collaboration with researchers, students, institutions, and publishers to facilitate the democratization of knowledge.
www.zendy.io
About Knowledge E 
Established in 2012, Knowledge E's name was fast to become synonymous with collaboration, professionalism and innovation. Head-quartered in Dubai, United Arab Emirates, and supported by a team of over 40 highly engaged professionals, Knowledge E works closely with over 200 clients world-wide from various types of organizations and government entities within the research and education sector to support their continued innovation and development. This is achieved by providing leading expertise, information resources and software solutions. Since its inception, Knowledge E has prudently expanded its expertise, services and technology in line with its vision of developing 'a more knowledgeable world'.Knowledge E's three core offerings are the 3D's; 'Discover', 'Develop' and 'Disseminate'. 'Discover' powered by Zendy,  through the KnE Digital Library Solutions for research literature discovery, as well as tailored content packages; 'Develop' through the KnE Training Programmes, supporting capacity building and skills development within academia as well as the KnE Consulting Projects, serving universities on their mission to become 'world-class universities'; and 'Disseminate' through the KnE Publishing Services and the platform for Open Access publishing of regional journals and conference proceedings.
www.knowledgee.com
About Taylor & Francis Group
Taylor & Francis Group partners with researchers, scholarly societies, universities and libraries worldwide to bring knowledge to life. As one of the world's leading publishers of scholarly journals, books, e-books and reference works our content spans all areas of humanities, social sciences, behavioral sciences, science, technology and medicine.
www.taylorandfrancis.com