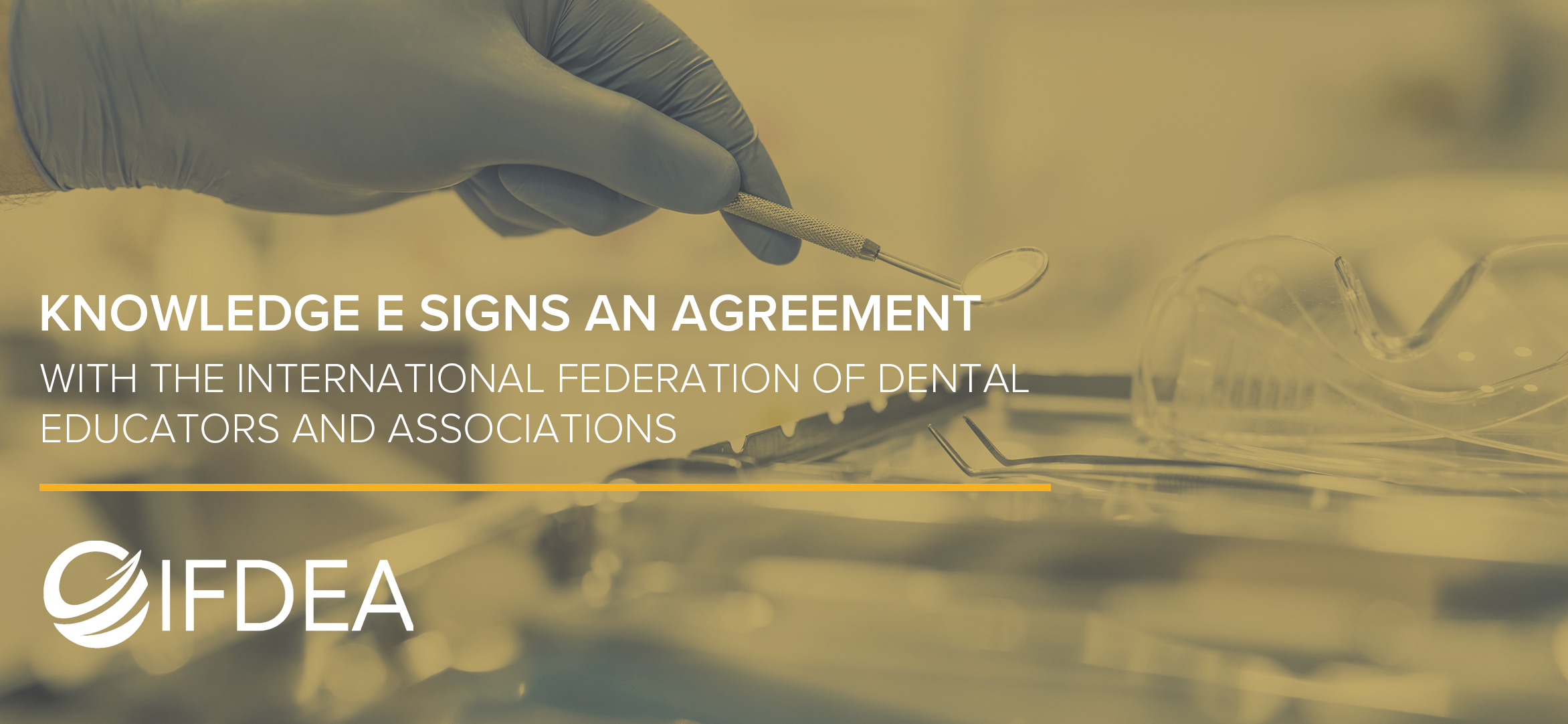 DUBAI, United Arab Emirates, 24th September 2020 – We are pleased to announce that, with mutual interest in collaboration, Knowledge E and the International Federation of Dental Educators and Associations (IFDEA) have signed an agreement to further raise the importance of teaching excellence in dental education. Their first pilot programme will contribute to supporting Egypt in its ambition to move towards a competency-based integrated curriculum. It will start at the end of September with a Leadership Orientation session for Deans and Vice-Deans of Egyptian faculties. Selected participants (professors and assistant professors) will be invited to engage in a series of interactive online workshops in the following sessions: Curriculum Design, Teaching & Technology, and Assessment Design & Implementation.
Samantha Miles, Head of Training & Consulting at Knowledge E, said, "We are delighted to start this collaboration with the IFDEA and look forward to working with them on several initiatives across the region. We are confident that this new partnership will support the development of our mission of moving towards a more knowledgeable world."
Professor Corrado Paganelli, Chair of the Board of the International Federation of Dental Educators and Associations, commented, "Participating and improving the global community of dental educators is at the core of our mission at IFDEA. Collaborating with Knowledge E will lead to a better understanding of the different approaches in dental education throughout the world and particularly in Egypt which is a significant country to us."
About IFDEA
International Federation of Dental Educators and Associations is a global community of dental educators who have joined together to improve oral health worldwide by sharing knowledge and raising standards.
IFDEA was established to serve as the representative, independent worldwide voice for dental education by promoting advancement in dental education with the ultimate objective of improving the oral health of the public. To achieve its mission, IFDEA worked to serve as a forum for the free interchange of ideas in the field of dental education and research with an international perspective; foster communication among dental educators worldwide; search for improved methods of teaching and learning in the area of health sciences; search for improved methods and strategies for training dental educators; and foster research in health sciences education.
About Knowledge E
Established in 2012, Knowledge E's name was fast to become synonymous with collaboration, professionalism and innovation. Head-quartered in Dubai, United Arab Emirates, and supported by a team of 40 highly engaged professionals, Knowledge E works closely with over 200 clients world-wide from various types of organisations and government entities within the research and education sector to support their continued innovation and development. This is achieved by providing leading expertise, information resources and software solutions. Since its inception, Knowledge E has prudently expanded its expertise, services and technology in line with its vision of developing 'a more knowledgeable world'.
Knowledge E's three core offerings are the 3D's; 'Discover', 'Develop' and 'Disseminate'. 'Discover' through the KnE Digital Library Solutions to institutions and individuals powered by Zendy for research literature discovery, as well as tailored content packages; 'Develop' through the KnE Training & Consulting, supporting capacity building and skills development within academia as well as the KnE Consulting Projects, serving universities on their mission to become 'world-class universities'; and 'Disseminate' through the KnE Publishing Services and the platform for Open Access publishing of regional journals and conference proceedings.