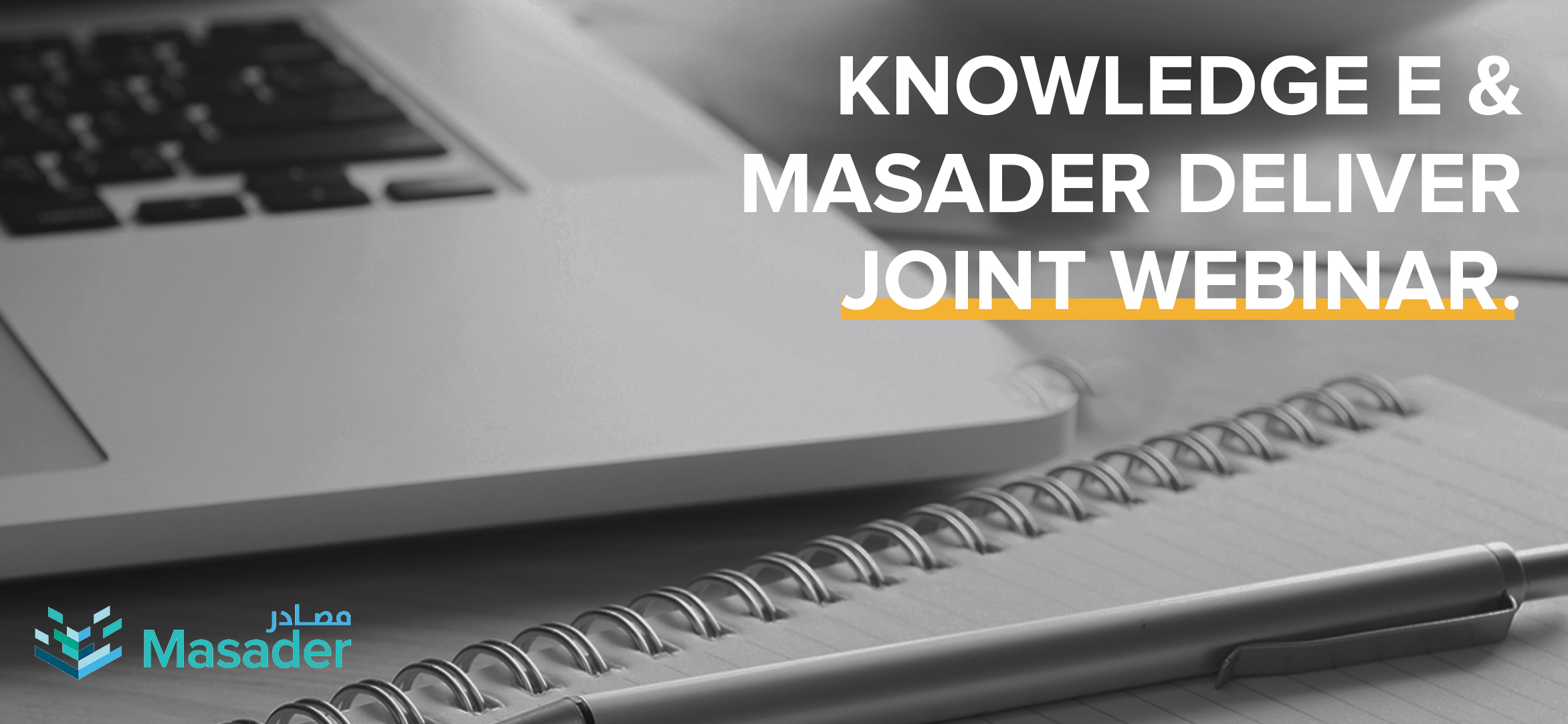 DUBAI, United Arab Emirates, 23rd March 2021 – Knowledge E works at the heart of the global knowledge economy by supporting nations, institutions, corporations, and individuals in becoming knowledge-based and innovation-driven leaders. To realise our vision of "a more knowledgeable word", Knowledge E works towards better discovery, development and dissemination of scholarly content.
In alignment with the goal of advancing research output and impact across the region, Knowledge E is collaborating with Masader, a virtual science library, to host a webinar offering expert advice on how to publish and promote your research.
Getting academic research published can be hard, and many academics must meet institutional publishing criteria while facing time and funding constraints. To address these issues, the webinar offers guidance and advice on what editors want, how to identify and avoid predatory publishers, and effectively promote research on social media.
About Knowledge E
Established in 2012, Knowledge E's name was fast to become synonymous with collaboration, professionalism and innovation. Head-quartered in Dubai, United Arab Emirates, and supported by a team of 40 highly engaged professionals, Knowledge E works closely with over 200 clients world-wide from various types of organisations and government entities within the research and education sector to support their continued innovation and development. This is achieved by providing leading expertise, information resources and software solutions. Since its inception, Knowledge E has prudently expanded its expertise, services and technology in line with its vision of developing 'a more knowledgeable world'.
Knowledge E's three core offerings are the 3D's; 'Discover', 'Develop' and 'Disseminate'. 'Discover' through the KnE Digital Library Solutions to institutions and individuals powered by Zendy for research literature discovery, as well as tailored content packages; 'Develop' through the KnE Training & Consulting, supporting capacity building and skills development within academia as well as the KnE Consulting Projects, serving universities on their mission to become 'world-class universities'; and 'Disseminate' through the KnE Publishing Services and the platform for Open Access publishing of regional journals and conference proceedings.
About Masader
Masader is the brand name of the Oman Virtual Science Library, which provides seamless and affordable access to a wealth of global research material. Membership of the Oman Research and Education Network (OMREN) makes Masader available to universities, technical colleges, and other Oman-based institutions engaged in education and scientific research.
Material is drawn from the world's great libraries, content aggregators, and publishers, with all resources accessible from a single entry point. More than just a means of collating electronic resources – from full-text materials to databases, media, and catalogues – Masader also provides user assistance such as training and technical assistance.